A Service of Tele/Video Consultation Launched by Credihealth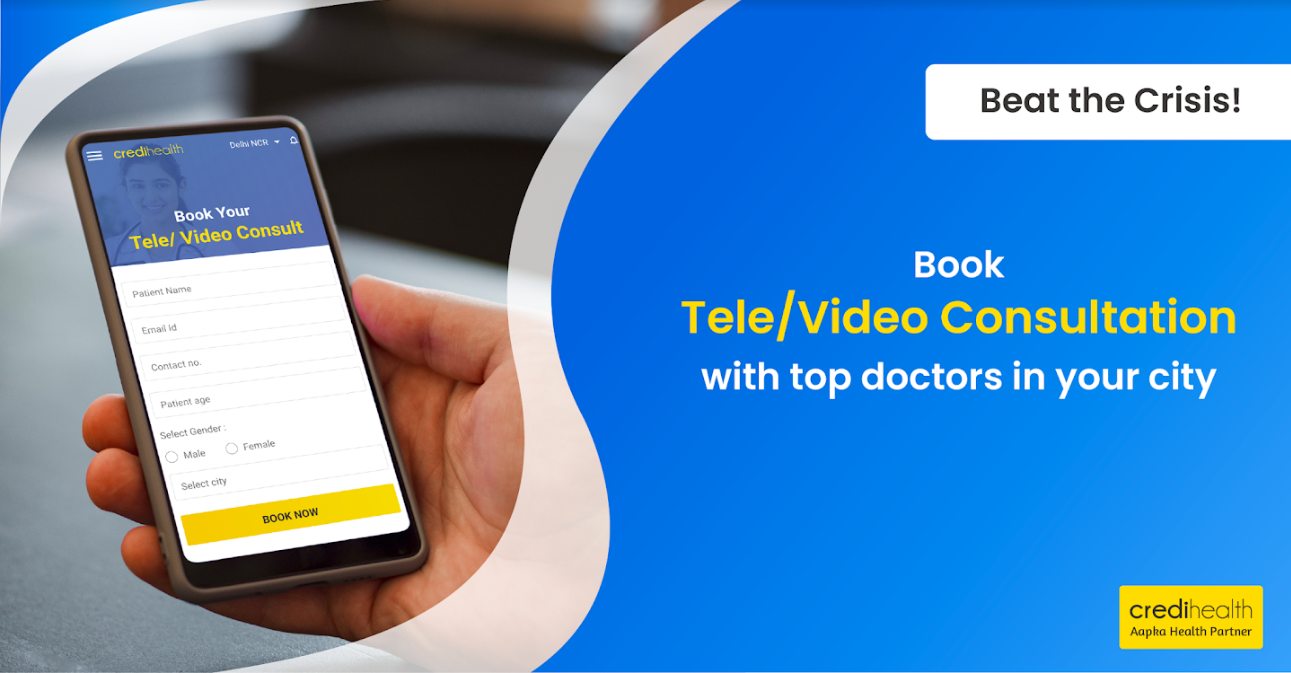 (prsubmissionsite) March 27, 2020 : Credihealth, India's first digital health gateway, announced its launch of a dedicated tele/ video consultation service with India's leading hospitals. In the wake of the COVD-19 outbreak and as highlighted by our honourable PM Sh. Narendra Modi, tele/ video consultations are the need of the hour. This service focuses on bridging the gap between seriously ill patients and doctors.
As the country experiences a lockdown and as the hospitals operating at a minimal service level, the need for medical assistance for the common man is expected to grow at an unprecedented rate. The ailing patients are confined into their homes, unable to get treatment. To bridge this gap, Credihealth has launched this dedicated service for cancer, cardiac and other tertiary care specialities. Speaking of the recent development, Mr. Ravi Virmani, Founder and Managing Director, Credihealth said, "Credihealth was started 7 years back with an aim to bring healthcare for all. Through this unique service, Credihealth is providing fast, secure and reliable access to serious illness patients in the current lockdown scenario. Currently, we are offering the service for hospitals in Delhi NCR, Bengaluru, Kolkata, Mumbai and Hyderabad and would soon be adding other key cities. These are testing times for all, and we would like to assist all in need of medical assistance." Through the service the patients can book appointments with doctors from hospitals like Medanta, Nanavati, Fortis, AIG, Wockhardt, Manipal, Yatharth, AMRI, CARE  and more.
The consultations can be booked through Credihealth's web portal and Android App where the hospitals and doctors are connected on the Credihealth platform. Hospitals and doctors have dedicated specific hours of the day, and patients can book online from the comfort of their homes. The appointments are at a nominal fee. The healthcare company is already seeing a huge rise in the number of requests for the service and is soon going to add more hospitals in the offering. Credihealth is equipped to accommodate hospitals for patients in Tier II and Tier III cities for COVID-19 and other serious ailments.
About Credihealth:
Credihealth is India's leading online health portal. The platform is aimed at providing a hassle-free experience for patients seeking healthcare in India. Credihealth is in trusted partnerships with 650+ leading hospitals across the country and more than 35000+ doctors are engaged with this reliable platform. 

As a part of its continued commitment, the organization offers priority appointments, in-hospital assistance, second opinion, online medicine orders, diagnostics, video consultations, and more. The medical experts at Credihealth help patients in making the right decision about their medical needs. The technology-driven platform allows users to compare treatment costs and avail time-saving services. 
For more information, visit: www.credihealth.com
Media Contact
Nishant Nayyar (+919811238228)
---
Summary
The platform now offers the service with 20+ hospitals across India
---