Tantiv4 Inc's Smart ThingaOS™ Powering Sharp's BDR 2B-C10BT1 Series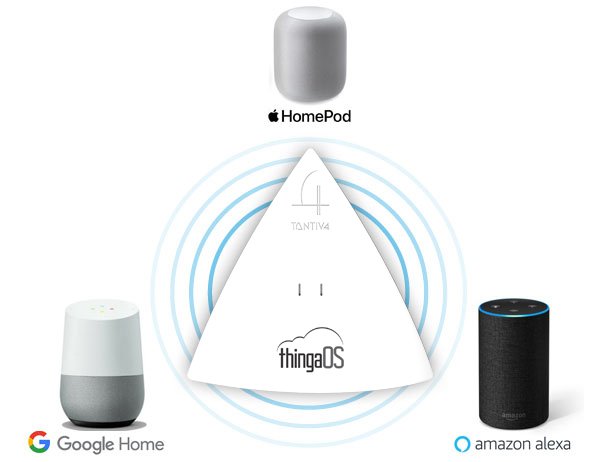 February 28,2019 ( PR Submission Site ) Consumers can now communicate with Sharps 2B-C10BT1 BDRseries using their existing voice input devices such as the Google Home/Mini in Japanese local language.
ThingaOS™ smart IOT platform provides a powerful AI based backend system allowing for a higher accuracy in interpreting the user intent through continuous machine learning algorithm," said Lokesh Johri, co-founder and CEO of Tantiv4 Inc."Voice is increasingly becoming the predominant user interface and as more users start using the voice capabilities provided in the Sharp BDR, the system constantly learns and improves the accuracy and response time to respond to searches."
This system currently works with the Google Voice platform and can be easily extended to other leading industry standard smart speaker platforms. Consumers can easily and securely connect, manage, and search for their favorite content using ThingaOS™ on the cloud or stored locally on the BDR device using voice in real time providing an enhanced intuitive user experience.
"By integrating ThingaOS™ technology consumers can verbally issue commands that are used to control Sharps2B-C10BT1 BDR series or to search for the desired content in the cloud or locally on the device," said Kishore Moturi, co-founder and VP Sales of Tantiv4 Inc. "Complex electronic program guide (EPG) searches by genre or title within a local cultural context use machine learning and AI to constantly adapt to provide the most accurate search results.
About Tantiv4 Inc.
Tantiv4 Inc., headquartered in Milpitas, CA, is powering the next generation IoT platform by providing uniquely architected solutions with a focus on simplifying technology for enterprises and everyday consumers to achieve AI and ML based automation and increased business efficiencies. ThingaOS™ operates on all popular cloud eco-systems, RF protocols and supports several control and voice interfaces.
For more information about this topic, please contact Kishore Moturi at +1 408 396-5962 or email at contact(at)tantiv4(dot)com.
ThingaOS™, FetchitGO are trademarks of Tantiv4 Inc. All other trademarks used are the property of their respective owners.
---
Summary
Tantiv4 Inc smart IOT platform. is bringing new capabilities to Sharps 2B-C10BT1 BDR series by complementing the physical remote with a voice-based navigation of the BDR system.
Source
https://www.tantiv4.com
---