SqueeCon Announces its Inaugural Edition, a Celebration of Fangrrl Culture and Creativity with Films, Panels, Cosplay Performances and More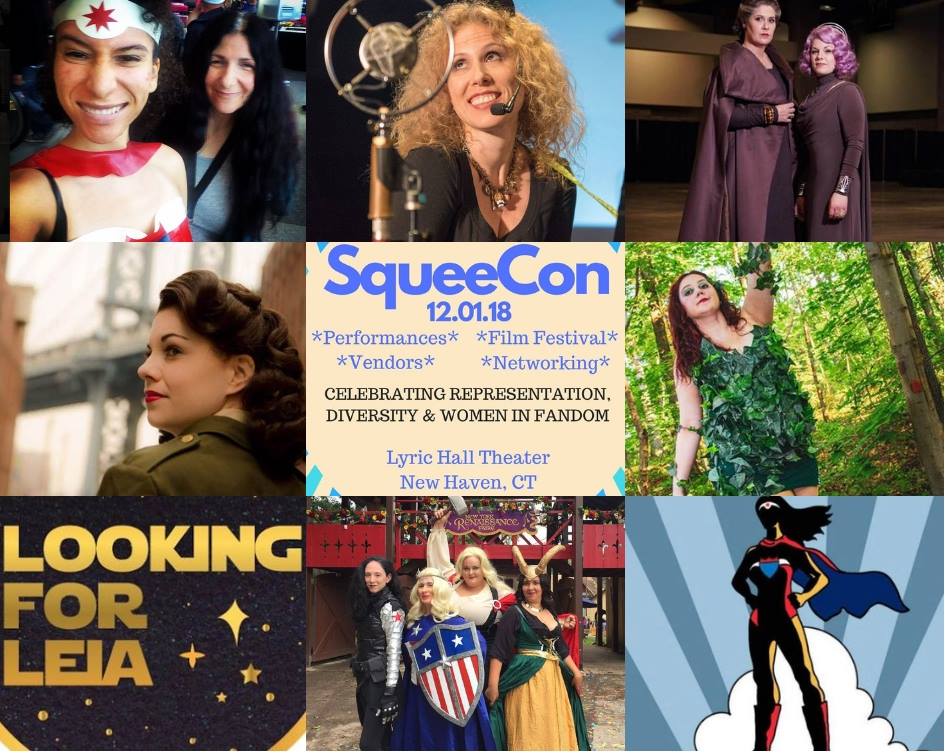 November 12, 2018 ( PR Submission Site ) The inaugural edition of SqueeCon, a celebration of films, art, music, cosplay and more by women and female identifying individuals has been announced. SqueeCon is the first ever one-day event celebrating the arts by a collective of Fangrrls creators and will cover the entire gamut of fandom experience. The event will be held on Saturday, December 1, 2018, at the Lyric Hall, New Haven, CT, between 1-9pm.
SqueeCon is pleased to welcome film-makers, nerds, geeks, writers, Fangrrls, cosplayers, vendors and more to join hands in support of the community. Several eminent guests have accepted the invitation to be there, including Christine Evans, Cate Broomhead, Cat Smith, Tea Time For Mad Girls and more.
You can be one of them too! Short film makers and vendors are invited to join the party (event schedule is under preparation). Filmmakers can submit their shorts at: https://filmfreeway.com/SqueeCon
As the very first gathering of creators, consumers, and fans, SqueeCon will cover fandom experiences of Fangrrls, be they cosplay, conventions, comic books, movies, podcasts, fanfic or episodics. All women, girls, femmes and female identifying Fangrrls will get to chat, network and collaborate in this geek-nerd cultural space.
As of today, SqueeCon confirms the following schedule: screening of 'Wayward', a sneak preview of upcoming docu-series, 'Looking for Leia', and the premier of the third installment of the 'Squee! Project' web-series. In addition, there will be a program of short films and videos. Well known guests in attendance include ; Cate Broomhead and Christine Evans of The_Cos_n_Effect, Rowena Cosplays, Ayla Ocasio & Jacob Daniel Womack, Jenn Wotchertonks and more.
Among the performances, SqueeCon will feature performances by Cat Smith and Tea Time For Mad Girls. There will be panels on Practical Cosplay, with more to be announced, and Nerd Karaoke/Mixer.
SqueeCon expects a wide array of audience and demographics. The expected profile includes women, gender non-conforming and LGBTQ-identifying individuals; age groups from early 20s to late 50s; and fans of pop culture, horror, sci-fi, fantasy, and superhero content, both literary and moving image.
Tickets are available for purchase at: https://filmfreeway.com/SqueeCon/tickets
Advance tickets are available for $20 online (promo code: FAF2018 for $5 off until November 11). Ticket price at the door will be $25.
For vendors, SqueeCon offers a great opportunity to deliver their content to their core audience. Applications are welcome for small tables ($25) and large tables ($50). Write to: squeefilm@gmail.combefore November 20.
Advertisers can book space in the program themed around Riot Grrl fanzines of the 90s in the following sizes and price levels: Full page ($40) for 8.5 X 11, Half page ($20) for 5.5 x 8.5, and Quarter page ($15) for 5.5 x 4.25, in Color or B&W and PDF format.
For ads and more information, please email: squeefilm@gmail.com
For more information, please visit: https://filmfreeway.com/SqueeCon
Media Contact
Company Name: Troubled Girl Productions
Contact Person: Hansi Oppenheimer
Email:  squeefilm@gmail.com
Phone: 347-626-9827
Country: United States
Website: https://filmfreeway.com/SqueeCon
---
Summary
SqueeCon Announces its Inaugural Edition, a Celebration of Fangrrl Culture and Creativity with Films, Panels, Cosplay Performances and More
---