Shiftal: The Global P2P Crypto Exchange to Go Live on May 14, 2020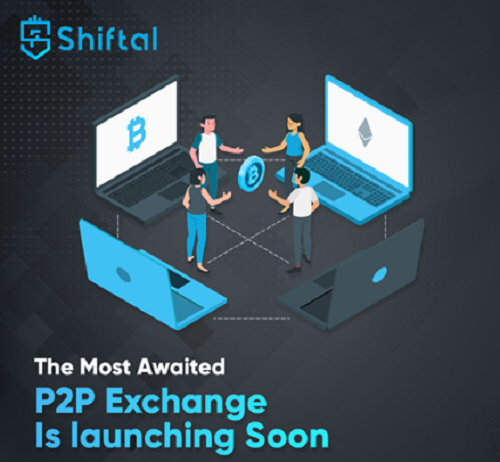 (prsubmissionsite) May 11, 2020 Europe/India –The team of Shiftal, a global P2P crypto exchange, announced that they are equipped to launch their exchange on May 14, 2020 and will initiate the registration process the same day. The exchange is geared to simplify P2P crypto trading and will be rolled out for the global users looking to tap into the burgeoning crypto market.
"Understanding the industry and the market, we found out that many users faced difficulty in comprehending the working of a P2P exchange. The entire process was beset with complexity and confusion. Thus, we vowed to create a user-friendly P2P exchange platform to deliver a reliable, easy, and smooth trading experience to our platform users.", said Rishabh, Founder and CEO of Shiftal.
Adding further, Abishek, Co-founder of Shiftal, said, "We aim to make two of the most prominent cryptocurrencies – Bitcoin and Ethereum – reach the maximum number of people worldwide."
Shiftal facilitates the buying and selling of Bitcoin and Ethereum for both beginners and experienced crypto traders. The multiple payment options available ensure that people across the globe can easily trade their desired cryptocurrency without any payment barriers. The powerful trading engine drives quick transactions while the institutional-grade security makes Shiftal the most secure and best site to trade Bitcoin and Ethereum.
Another remarkable attribute of Shiftal is its low trading fee and minimal withdrawal fee. While most exchanges charge a hefty fee, taking away a significant share of traders' profit in the form of fees, Shiftal has a nominal and transparent fee structure.
The company, currently running the Beta version of Shiftal exchange, plans to expand its services after the exchange goes live. It will introduce a centralized spot trading exchange with a margin trading platform, with an aim for a comprehensive crypto exchange.
About Shiftal
Shiftal is a brainchild of Rishabh and Abishek, who aim to simplify P2P crypto trading. With in-depth domain knowledge and rich experience in the crypto industry, both Rishabh and Abishek embarked on, the journey to deliver a secure easy, and reliable P2P trading platform to traders globally, thus Shiftal.
Contact
Name: Shiftal
Contact number: +447466086902
Email: info@shiftal.com
---
Summary
Shiftal, a global P2P crypto exchange, is ready to go live on May 14, 2020. Fortified with multi-layer security, powerful trading engine and user-friendly interface, Shiftal will simplify P2P crypto trading.
Source
https://www.shiftal.com/
---