Save Up To 15% On Over 45,000 Amazon Items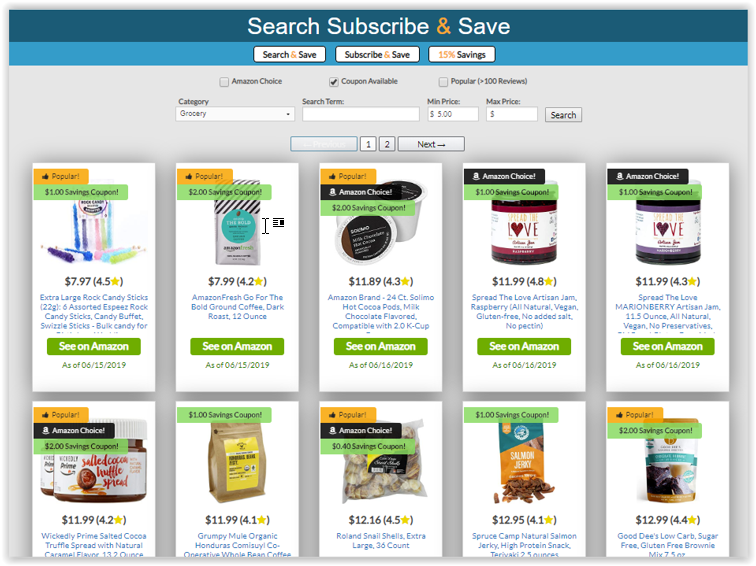 29 july, 2019 ( PR Submission Site ) – SoftFX Corporation released today https://SnS.tips, a web-site search tool that helps users save up to 15% on over 45,000 different Amazon.com purchases. SnS.tips optimizes the search for Amazon Subscribe & Save (SnS) eligible products, letting users search by category, search term, price, coupons and popularity.
Buying one Subscribe & Save product on Amazon typically brings a 5% savings.  But when four more SnS items are added to the order, the savings jumps to 15% of the total price of the five-item order. SnS.tips can identify low-cost filler items and also be used to search across brands and categories to find frequently used items that are SnS eligible.  There are, for example, many filler SnS items that sell in the $1-2 range.
SnS products can be searched for directly on Amazon, but the results there are often cluttered with other non-SnS product, so it's difficult get a precise match, and it is hard to search by price.  Amazon deals are often presented in supermarket-flyer format that makes it necessary to visually scan through many search results.  The format on SnS.tips is concise and focuses on the display of only SnS-eligible products.  The site is responsive, which means that it works well whether you access if from your desktop computer, tablet device or smartphone.
SoftFX's Chief Product Officer, said that "Amazon prices are typically already low, but SnS.tips can help people save even more.  It works especially well for finding regularly-purchased household items.  Amazon subscriptions are very flexible, and the frequency of the shipment schedule is set by the user. It's possible to easily skip or cancel a delivery. For example, it's possible to cancel a subscription without penalty after receiving just a single delivery.  SnS.tips is a tool we think many people will find useful."
SoftFX Corporation, the developer of the SnS.tips web site, specializes in creating web sites and software for both business and consumers. SoftFX is a participant in the Amazon Services LLC Associates Program, an affiliate advertising program designed to provide a means for sites to earn advertising fees by advertising and linking to amazon.com.
---
Summary
SoftFX's SnS.tips search tool lets users rapidly search over 45,000 four-plus-star-rated Amazon items to find Amazon Subscribe & Save elible items. Using the new tool, it is easy to pinpoint eligible Subscribe & Save products by search term, category and price.
---