Rising Bharat: Event Series For Startups Based In Tier 2 And Tier 3 Cities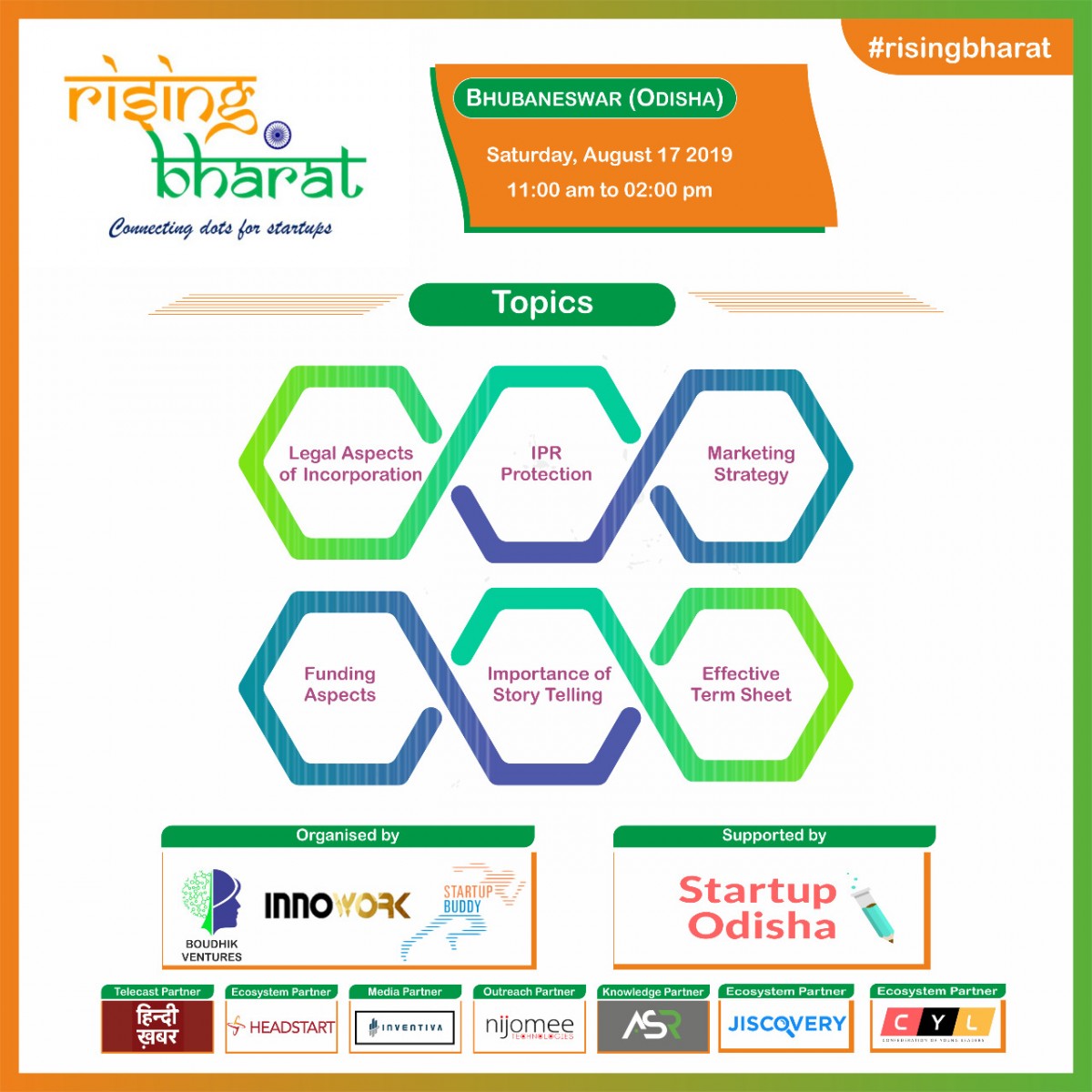 14 August 2019 ( PR Submission Site ) – Startup Buddy, Boudhik Ventures and Innowork today announced together about their upcoming event series "Rising Bharat" Connecting Dots for Startups in Tier 2 and Tier 3 cities which is ready to start from Bhubaneswar city (Capital of Odisha) on 17th August 2019. The event series is being supported by Confederation of Young Leaders.  First event covered various important topics like Legal aspects of Incorporation, IPR Protection, Funding Aspects and Marketing Strategy etc. from various eminent speakers/mentors of the start-up ecosystem i.e.  Mr. Amit Singal, CEO of Startup Buddy, Mr. Vivek Dahiya Co- founder of Boudhik Ventures®, Mr. Bibin Babu Co- founder of InnoWork, Mr. Dhianu Daas Co-founder Alfa Ventures, Mr. Vikas Bagaria Founder and Managing director of PeeSafe and Ms. Shivani Singh Angel investor who will share their knowledge, assisting start-ups in their queries and guiding them about start-up journey. Mr. Rahul Dev, Honorary Advisor, Speaker's Research Initiative, Lok Sabha will be chief guest for the first event.
 Rising Bharat series has been conceptualized by Startup Buddy, Boudhik Ventures® and InnoWork. They have experienced that there were a huge gap in Sharing Knowledge, Proper advisory, Support, Networking, Investment opportunities, Govt. Schemes for start-ups in Tier 2 & Tier 3 cities. Rising Bharat channelize this series in order to provide them a good handholding on all such activities which is required for them to grow and develop their businesses in Indian as well as Global market.
 "The mission and vision of the Series is to empower Tier 2 and Tier 3 cities startups to support them in connecting with eminent leaders of the startup ecosystem for Proper advise, Mentorship, Guidance and Identify their core innovative business ideas to take first mover advantage "  says Vivek Dahiya, Co-founder, Boudhik Ventures.
 "This Series will play a significant role for Startups by getting experts from different domains at their place so that they will be prepared themselves for their startup journey from incorporation till all legal formalities. Experts helps them to channelize their strategies and giving them business insights to grow globally." says Amit Singal, co-founder of Startup Buddy, "we are very thankful to Startup Odisha for supporting as partner in the mission", he added.
 Mr. Bibin Babu, Co- founder of InnoWork said that this series fosters creative collaborations between startups businesses from different cities and gives them a motivation and access to resources to become a successful entrepreneur. The series will cover Jammu, Goa, Lucknow, Indore, Jabalpur, Jodhpur, Gwalior, Guwahati, Ranchi, Ludhiana, Amritsar, Mysore, Chennai,  Nagpur, Visakhapatnam and more.
Being elated about supporting the initiative Mr. Himadrish Suwan, Chairman of Confederation of Young Leaders said "This series of events will bring out the real young leaders of future India, and the growth of our young nations depends on them, CYL is happy to support the initiative at all levels".
 Startups can do RSVP for the event at: https://lnkd.in/fZVv2cx
---
Summary
Rising Bharat is an event series to support and enable Tier 2 and 3 city entrepreneurs with resources, funding and mentorship.
---