Rams Creative Reviewed Again On Clutch By One Of Its Prestigious Clients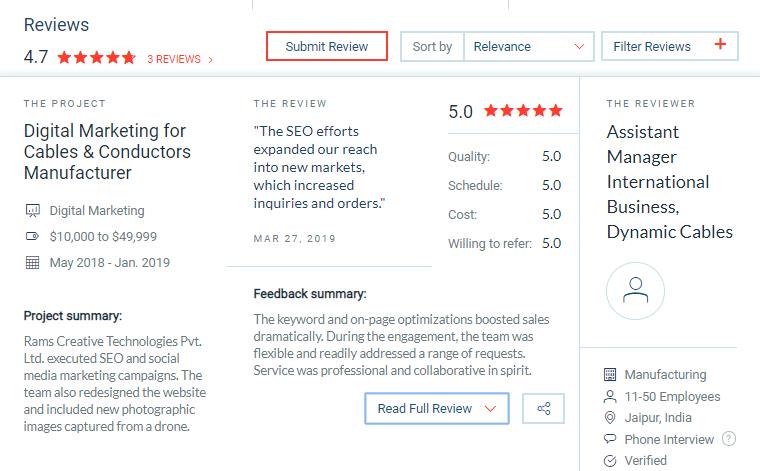 Jaipur, Rajasthan, April 12, 2019 ( PR Submission Site ) – Rams Creative Technologies, an expert digital marketing agency, and leading Development Company in the field of computer simulated realities was recently reviewed by one of its clients on Clutch.
Clutch is an online rating and review platform which showcases the expertise and relevance of a company in a particular field based on the reviews given to them by their clients and customers.
The client which reviewed the leading IT Company is the Assistant Manager of the International business at Dynamic Cables. Dynamic Cables is the manufacturer of high-quality electrical cables and overhead conductors. The company supplies its product to its different private and government clients in India and abroad.
Rams Creative ran a marketing campaign for the cable manufacturer to help them reach new markets and increase their inquiries and orders. The IT Company was also consulted to also redesign the company's website and include new images captured from a drone in it.
The services of Rams Creative have helped the company to increase their sales and build up their marketing collateral. In the review the client said:
"Rams Creative Technologies Pvt. Ltd. executed SEO and social media marketing campaigns. The team also redesigned the website and included new photographic images captured from a drone."
He Adds:
"The SEO efforts expanded our reach into new markets, which increased inquiries and orders. We've achieved nearly 51 new clients in the last three months, a significant improvement from two years ago."
The client was really happy with the results he gained from the services of the digital marketing agency. In a section where the client was supposed to write about his impression about the company he said:
"They provided exceptional professional service, solving problems and troubleshooting issues in a collaborative manner. We became friends in addition to being clients."
The client liked the cost-effective and high ROI solutions of the IT Company and even strives to contact them if something needs to be tweaked.
In the overall feedback for Rams Creative the client says:
"The team did social media marketing and SEO, focusing on keyword and on-page optimizations. Rams Creative Technologies Pvt. Ltd. also did development and design for our website. They used a drone to complete a 360-degree photo shoot and uploaded the content on to our site."
RCTPL is growing with every project that they deliver. They have showcased their caliber in different fields and have always pleased their customers with their quality-rich services.
Rams Creative Technologies is an India based software and IT solutions company, providing salesforce implementation services, web development, mobile applications and AR/VR solutions along with digital marketing services to various industrial sectors.
Rams Creative Technologies Pvt. Ltd.
---
Summary
Rams Creative Technologies Pvt. Ltd., an IT Company and digital marketing service provider was recently reviewed by one of its clients on the international review and rating platform- Clutch. The client is the assistant manager of a leading electrical cable manufacturing and supplying company- Dynamic Cables.
Source
Rams Creative Technologies Pvt. Ltd.
---