Punjabi Sensation 'Maninder Buttar' performing live at STORY Club and Lounge at The Westin Gurgaon, New Delhi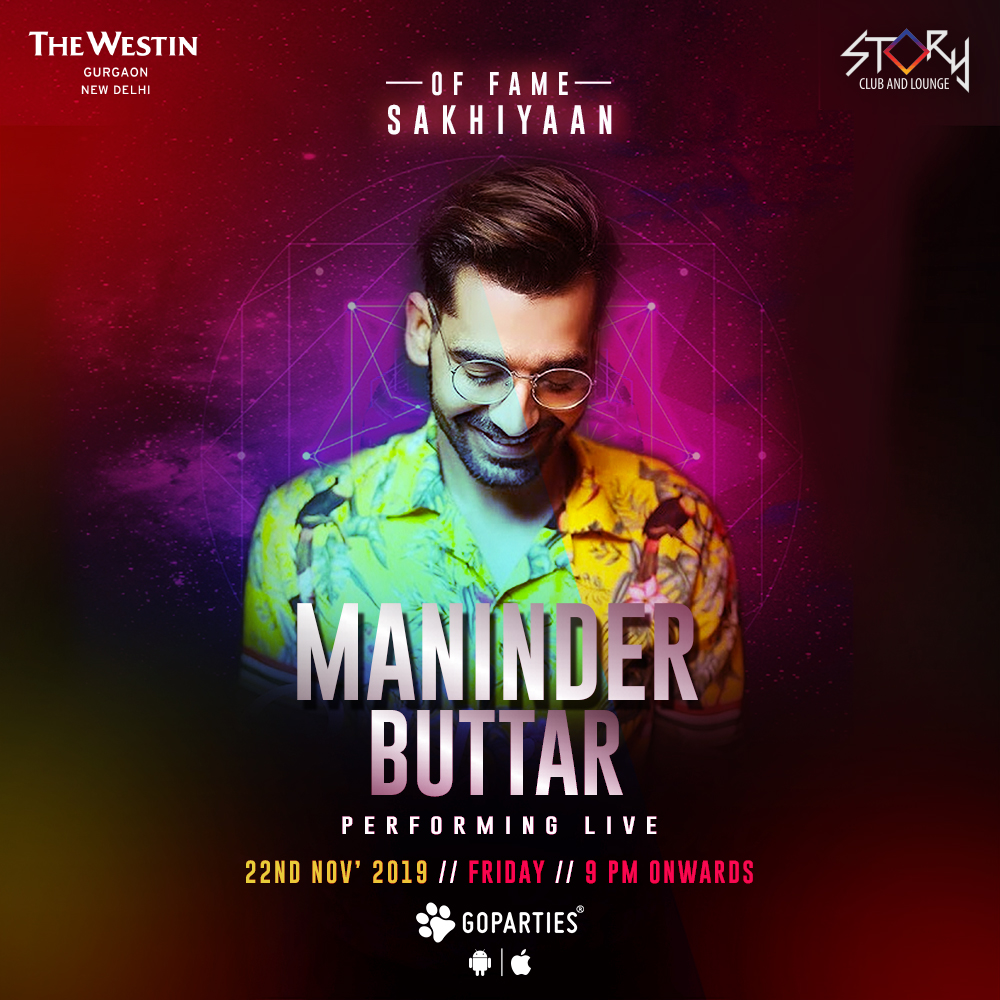 (prsubmissionsite) November 16, 2019 –A Night to Remember this November, as STORY Club & Lounge at The Westin Gurgaon, New Delhi brings you Maninder Buttar performing live. Come celebrate the magic as its going to be a night of unadulterated music with the Sakhiyaan fame star performer at your favorite night life destination.
Be ready to witness the magical melodic journey on Friday, 22nd November, 09.00 pm onwards.
Rs. 5999 AI per couple includes free flowing premium liquor (T&C apply)
For ticket bookings/ reservations, please contact : +91-9899191917
Address :
STORY Club & Lounge
The Westin Gurgaon, New Delhi
Number 1 Mg Road, Sector 29, New Delhi, Ncr, Gurugram, Haryana 122002
About Venue :
Open from 04.00 pm till 04.00 am with an elusive enthralling aura, sophisticated decor and captivating food and beverage options, STORY is the eminent nightlife spot for the Gurgaon elite. It is a nightlife venue designed to create a timeless experience through a combination of natural and modern aesthetics.
A sprawling and beautifully crafted bar is the focal point of STORY on level one. The bar is one of the key features of the lounge, serving up an array of unique blends and concoctions, made perfect with our team of award- winning mixologists.

About Artist :
Maninder Buttar is an Indian singer, who popularly known for the Punjabi music world and a famous one in Pollywood these days.
He is most well-known for his song Sakhiyaan, which have garnered a total of over 400 million views on YouTube. It was also nominated for "Most Popular Song" in Punjab's prestigious PTC Punjabi Music Awards. In 2018, shortly after the release of Sakhiyaan the song shot-up and topped the charts of Punjabi Most Popular charts compiled by Gaana.com. Maninder has also been voted for his collaboration with numerous other reputed Indian musicians, like Raftaar in the song Gall Goriye, and Ammy Virk just to name a few. With multiple shows across the world he's amongst the most famous Punjabi Singers from India Music Industry.
Organised By & Ticketing Partner
GoParties.Live is an award winning Experiential Events & Marketing Management agency brand of GoParties – Your Entertainment App (www.goparties.com); which is a discovery and booking platform for live experiences as an artist management and online partner for the gig provides multitude of options for an entertainment seeker.
---
Summary
Punjabi Celebrity performing live at STORY Club and Lounge at The Westin Gurgaon
---