Proud to announce that Aberame is now ISO 9001:2015 Certified!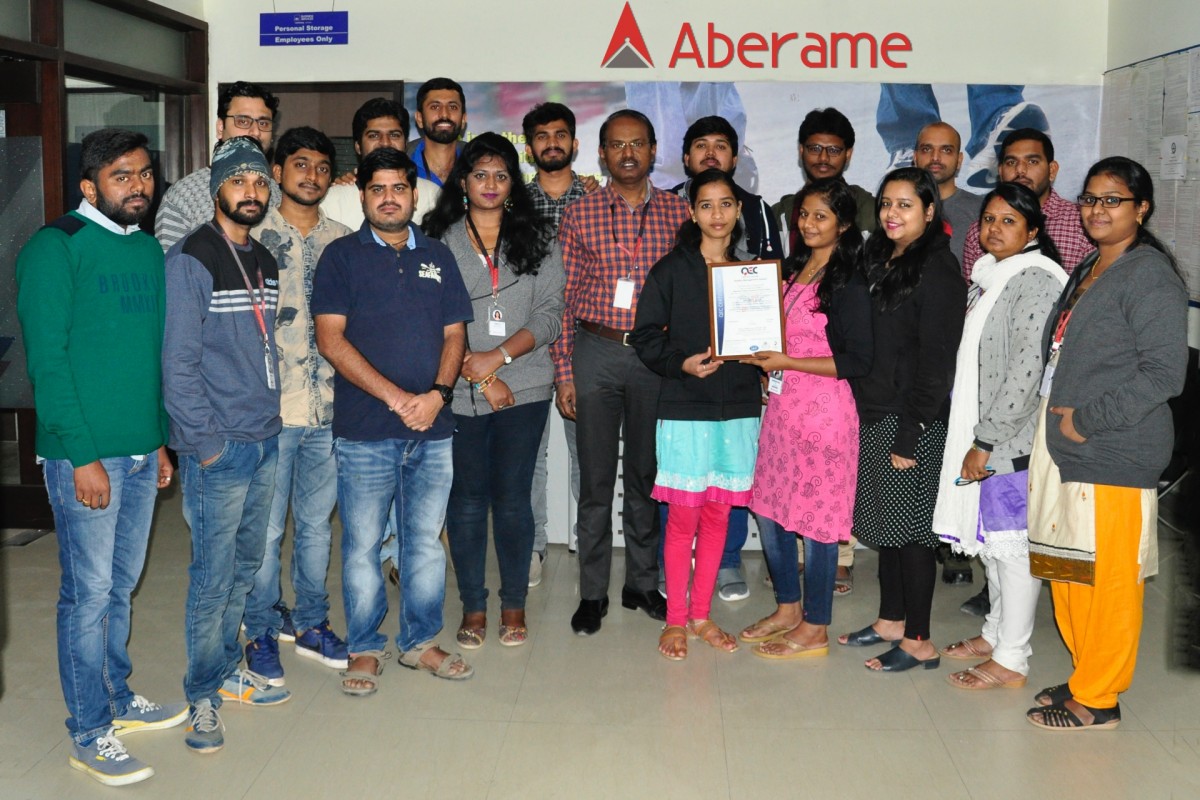 Bengaluru, January 14, 2019 ( PR Submission Site ) We are proud to have been awarded ISO 9001 certification, an internationally recognized standard that ensures services meet the needs of clients through an effective quality management system.
Our decision to work towards ISO 9001 accreditation demonstrates our commitment to effectively and efficiently providing a high-quality and consistent service to our clients and our ongoing investment in technology and process.  As part of the ISO 9001:2015 certification process, Aberame engaged in a rigorous audit of our business processes as well as our product quality environments.
This ISO 9001:2015 certification further strengthens our commitment to our clients and our Company Quality Policy:
"At Aberame it is our policy to understand, meet, and exceed our customer's needs and expectations by providing products of the highest possible standards, quality, safety, and reliability. We are committed to the continual improvement of our products, services, and processes, which is the responsibility of each and every employee of Aberame."
Aberame CEO Rajalingam R. adds "I am extremely proud of our Aberame team for their achievement, which proves their commitment to ensuring quality and providing the best possible service to our loyal clients. We are dedicated to constant improvement and development and achieving and maintaining an ISO 9001 accreditation ensures we have the processes and systems in place for this.
We would also like to take this opportunity to extend our sincere thanks to our customers and suppliers for their continued commitment and loyalty. Aberame will always strive to exceed their high expectations. With our goals focused on the emphasis of quality assurance and innovative production, we look forward to bringing the business to new heights in the months and years to come.
Rajalingam R also acknowledges Qsolutions for their involvement in our certification, who helped us to seamlessly implement ISO management systems in order to achieve ISO 9001 accreditation".
About Aberame:
Aberame is a leading IT Solution, branding, marketing, communications technology and consulting service provider in India & Hong Kong.   With deep domain knowledge and an expert talent pool, Aberame delivers unmatched quality to improve efficiencies and help grow the businesses of their clients across the globe. Aberame offer Application Development, Quality Analysis, Web app, Mobile app, Cloud Service Solutions, SaaS (Software as a Service) tools, CPaaS solutions, Consulting and System Integration Solutions to clients around the globe.
---
Summary
Corporate announcement from Aberame, India & Hong Kong
Source
https://www.aberame.com/aberame-iso9001/
---