PrintPapa Offers Impressive Flyer Printing Services at Competitive Prices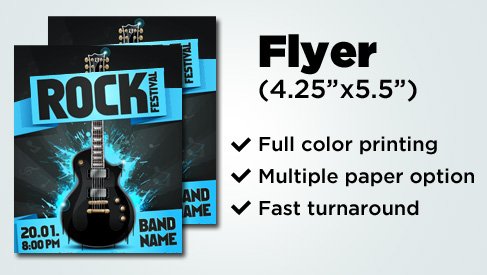 March 27, 2019 ( PR Submission Site ) Santa Clara For businesses that are looking for flyer printing services here is some good news. PrintPapa the leading company for online printing in California is offering impressive flyer printing solutions to businesses as well as other organizations. The company has been in the printing business for more than a decade and understands the needs of businesses when it comes to their offline marketing campaigns. It has served clients across the United States with pride and set new benchmarks for quality and competitive pricing.
Flyer Printing At Competitive Price
PrintPapa has become the most trusted printing service provider for clients in California and beyond by offering high-quality products. As a customer centric business it has constantly invested in the latest technology to improve quality and also benefit from reduced costs. This has allowed the company to pass on the benefits to its clients thus keeping prices competitive. Its online ecosystem allows clients to place orders for their prints from anywhere without having to send artwork and images physically. To serve varied needs of its customers it offers different kinds of flyer printing services that include –
Rectangle Flyers
Folder Flyers
Shaped Flyers
Club Card Flyers
Apart from offering high quality custom flyer printing solutions PrintPapa has constantly focused on the end user experience. With a customer service team constantly helping clients with their orders and queries it has risen above competition. The number of testimonials on their stand is a proof of the kind of reputation the firm enjoys. Yesenia one of their regular customers writes "I really liked the customer service provided by Sam. He was very helpful and answered every one of my questions. From now on, PrintPapa will be the place where I will get all of our marketing printed at, and I have already recommended them to all of my coworkers."
If you are planning to place an order for flyer printing or have some doubts and queries regarding their online printing services you can get in touch with the courteous team by visiting their website http://www.printpapa.com
About PrintPapa:
PrintPapa is the leading flyer printing company in California. It has created a name for itself in offeringhigh quality work at competitive costs with quick turnarounds. They offer wide range of printing services and that are meant to meet offline marketing needs for small and large businesses.
Contact:
PrintPapa
Address: 1920 Lafayette Street, Unit L
City: Santa Clara
State: California
Postcode: 95050
Country: United States of America
Telephone: 408-567-9553
Website: https://www.printpapa.com/
Email: contact@printpapa.com
END
###
---
Summary
PrintPapa is offering impressive flyer printing services at competitive prices to its clients. The company has invested in state-of-the-art technology that sets it apart from most of its competitors.
Source
https://www.printpapa.com/
---