Primary Care Plan+ A Comprehensive Health Plan from GetSavvi Health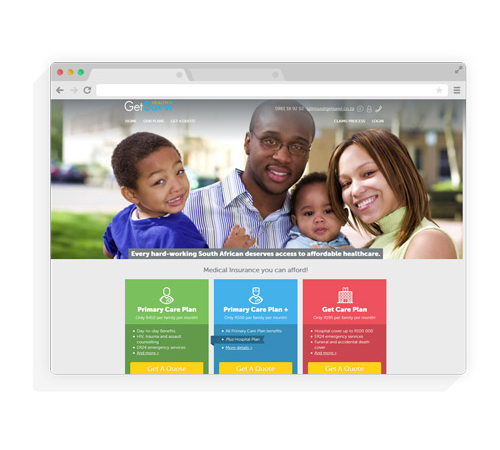 (prsubmissionsite) October 25, 2019 – GetSavvi health is a renowned health plan provider in South Africa. The company strives to help its members through various healthcare plans. Amongst many other successful medical insurance plans, Primary Care Plan+ is one of their major products.
Health Benefits Covered by the Plan:
Primary Care Plan+ is all-inclusive medical insurance offered by GetSavvi Health. From day-to-day health benefits to hospitalisation, everything is covered under this plan.
The day-to-day health benefits include-
Unlimited consultation from doctor
Basic as well as emergency dentistry
Diagnostic tests like x-rays and blood tests
Chronic and acute medication
Maternity benefits
The hospital benefits under this health plan include:
Emergency Casualty Benefits- it refers to outpatient hospital treatment in an emergency caused by injury, which may be the result of an accident. The insured person can get coverage of R 6350 per annum due to such hospitalisation.
Personal Accident Benefit- It includes the inpatient hospital treatment along with all related medical services at a private facility. Hospitalisation due to an accidental injury is considered under this facility. An insured person can get R 1200000 per annum.
Emergency Stabilisation Benefit
Inpatient hospital treatment for stabilisation in the emergency unit can be covered also, with the coverage amount of R 18500 per annum.
Cost Set for the Plan:
GetSavvi Health is well-known as a medical insurance provider which provides insurance plans at an affordable price. The premium amount set by the company for their Primary Care Plan+ is R 460 per annum for a single member and R 750 for family. You can also top-up your plan by providing only R 135, which increases the facilities with unlimited dentistry and optometry.
Special Services to the Members:
GetSavvi Health offers a multitude of services for its members.
HIV, Trauma and Assault Counselling: The members with the experience of a traumatic event or with HIV, are offered counselling. The company is associated with a team of professionals who can provide the necessary support to those people. The members can get access to a number, through which they can connect to the specialist medical practitioners for assistance. The professionals are available for round the clock assistance.
Netcare 911 emergency services: GetSavvi Health offers emergency service, with which the members can get assistance from any professional in any medical emergency. People also can get medical advice at any time of the day.
Funeral plan: GetSavvi Health understands that at times funeral costs might seem to be a huge burden and strives to help members in such a situation. One can get single coverage or the family funeral plan.
Health Advisor: GetSavvi Health provides health advice over the telephone, round the clock. One can get assistance with emergency medical advice, important health knowledge, assessment of day-to-day symptoms, health counselling, drug database, poisoning and stress management.
About GetSavvi Health:
GetSavvi Health is a leading medical insurance provider in South Africa. The company provides effective products and services at an affordable price.  For further information on GetSavvi Health and other details please visit https://getsavvi.co.za
Contact Us:
Suite 302, Tygervalley Chambers 5
27 Willie van Schoor Ave
Tygervalley, Bellville
7530
South Africa
Call: 0861 18 92 02
Email: talktous@getsavvi.co.za
---
Summary
GetSavvi health is a renowned health plan provider in South Africa. The company strives to help its members through various healthcare plans.
Source
https://getsavvi.co.za
---