Panaesha Capital Launches Live Trading on PCEX; A Digital Asset Exchange Platform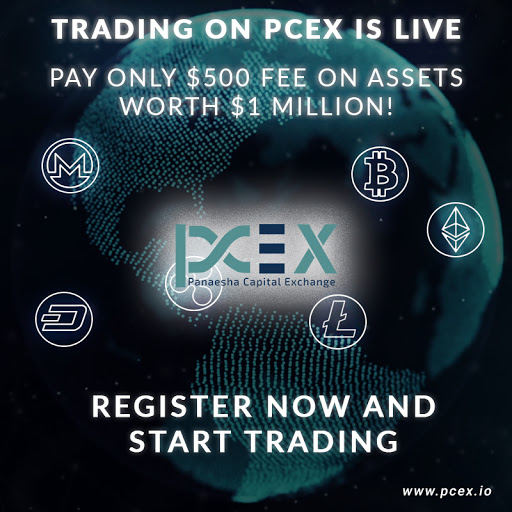 Thailand, 5th January 2019 ( PR Submission Site ) Panaesha Capital announced the launch of its crypto-exchange, PCEX, today. Panaesha Capital Exchange or PCEX is a high-caliber crypto-exchange with numerous features that will deliver a profit-conducive and secure trading experience.
In the cryptocurrency market, there are currently more than 200 functioning exchanges. Unfortunately, security and liquidity on many of these exchanges are a matter of concern for traders. While crypto-exchanges do offer customer support, all-round assistance is still lacking and emails have a prolonged response time. PCEX hopes to alleviate many of these pitfalls through a well-planned, secure and user-oriented platform.
The exchange is designed for high-liquidity; PCEX offers stop loss, limit and margin trading options along with futures, and cash delivery markets. PCEX charges a single transaction fee of 0.05% on any trade in their intraday and derivative markets, and 0.5% in the cash or delivery market.
Sandeep Phogat, CEO and Founder of Panaesha Capital said, "Although the global cryptocurrency market is fast developing into a financial revolution, many countries are still struggling to capture even a portion of the market-cap. Affordability and security are two of the major roadblocks keeping investors from entering the industry. PCEX will offer a secure and cost-effective platform, that is affordable and approachable to anyone; expert or beginner. Our crypto-exchange is a fusion of the traditional market and the digital assets market; we offer a skilled broker channel for personal assistance and services at a fraction of the current market-price."
About PCEX
The crypto-exchange, PCEX, is a one-stop trading platform providing both cryptocurrency to cryptocurrency and cryptocurrency to fiat currency trading options. The crypto-exchange is designed to prevent users from visiting numerous platforms to convert their fiat money to digital currency or vice-versa. The exchange employs a superior order-matching engine, and with strategic partnerships and a huge user-base, PCEX will provide high-liquidity. The trading  platform provides options of limit trading, Intraday as well as futures markets.
PCEX has a unique approach of bringing traditional trading techniques to the high-tech cryptocurrency market by adding a layer of brokers and sub-brokers to the crypto-exchange. The broker channel is designed for round-the-clock personal assistance to the users, and a layer of security for the exchange. Users will not be charged any additional brokerage fees for sub-broker assistance. PCEX also offers one of the lowest trading fees in the market. In fact, the platform does not charge a wide array of fees in the form of maker fees, taker fees, deposit or withdrawal fees.
Panaesha Capital is a financial technology company, launched by a team of experts in mid 2017. While majorly focusing on blockchain technology and the cryptocurrency industry, Panaesha Capital also provides consulting and analytical services along with white-label solutions..
---
Summary
Panaesha Capital has launched its live trading platform, PCEX, today. PCEX charges a single transaction fee of 0.05% on any trade in the intraday and derivative markets, and 0.5% in the cash or delivery market. With high-end trading tools and elevated liquidity, PCEX facilitates profitable crypto-trading. The platform also offers round-the-clock customer support.
---