New Updated 32-bit and 64-bit Vinyl Cutting Software – EasyCut Pro 5.1.02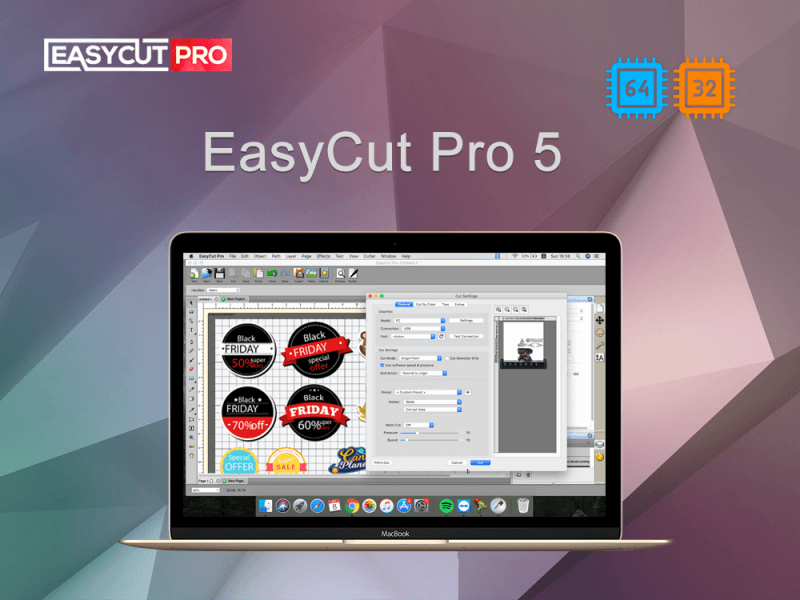 (prsubmissionsite) The one solution for all your design, print, print-and-cut and direct-to-vinyl production workflow.
NEW YORK, N.Y.,  April. 13th, 2020 –  Both 32-bit and 64-bit OS machines are supported. The new update also offers a wide range of features, making the tool even more efficient than before.
EasyCut Pro is one of the most popular and widely trusted vinyl cutting applications for Mac and Windows. It is perfect for small as well as large printing and cutting businesses. The new version brings above all a significant increase in speed for all operations thanks to multi-core optimizations.
The previous versions of EasySignCut Pro 4 are really popular as vinyl cutting software solutions used by more than one million users worldwide and 65 percent of sign business companies. But it only supported 32-bit machines before. Since 64-bit systems is more and more popular today, many Windows 10 and macOS Catalina users run 64-bit machines; After six months of hard work and optimization, EasyCut is finally able to deliver 64-bit versions of it's vinyl cutting software. in order to address the needs of computer users who run 64-bit Windows or macOS.
EasyCut Pro 5 provides streamlined workflows and user-friendly interface that sign-makers specified, and new processing speeds that are faster than anything the market has seen to date. Large image are not only processed faster during the design application but also throughout the printing and cutting process. Thanks to an increase in speed of more than 20% over previous versions, the new versions delivers significantly more thrust to greatly improve production capabilities.
Pricing and Availability:
EasyCut Pro is available for both Windows and Mac systems, including Windows 10, 8.1, 8, 7, Vista, XP and macOS 10.8+.  EasyCut Pro 64 bit requires macOS 10.10 or higher. A demo is available for download. The full version can be purchased from the EasyCut website (www.easycutpro.com) for $199.95 USD. The update is free for licensed users of EasySignCut Pro 4.x.x.
About EasyCut:
Founded in 2007, EasyCut is an innovative software developer focused on print & cut graphic solutions for Windows and Mac. It has been well-recognized by hundreds of thousands of happy users all over the world. EasyCut always focuses on facilitating your life with innovated ideas and latest technology.
### MEDIA ONLY CONTACT:
Press contact: David Kinney
E-mail: pr@easycutpro.com
Download of press release images (i.e. boxshot and high resolution screenshots ):
https://www.easycutpro.com/download/EasyCutPro-PressKit.zip
Website: www.easycutpro.com