MYCOM OSI to Unveil the Assurance Cloud™ at MWC 2019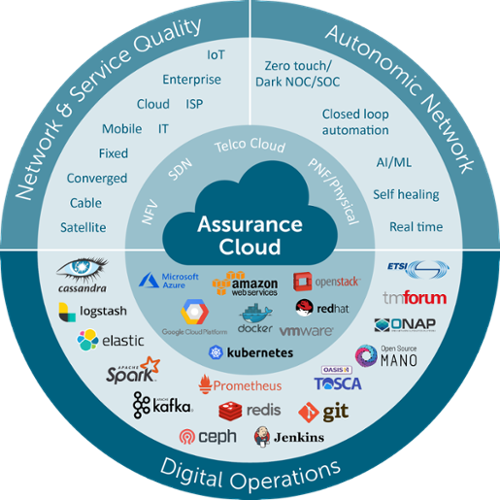 February 14,2019 ( PR Submission Site ) MYCOM OSI, the Assurance Cloud Company™ and leading independent provider of Assurance, Automation and Analytics solutions to the world's largest Communications Service Providers (CSPs), today announced that it has been acquired by leading private equity firm Inflexion, to fuel its growth and capitalize on its leadership position in a market that is transforming from 30 years of traditional legacy OSS solutions to state-of-the art cloud-based solutions.
MYCOM OSI provides the industry's first cloud-native service assurance solution – available on private and public clouds – that has been commercially deployed at scale at Tier 1 CSPs, including at Three UK, where MYCOM OSI is assuring the world's first end-to-end Telco Cloud network, and at one of the top 5 largest CSPs globally, where MYCOM OSI is automating up to 95% of its network quality management operations. MYCOM OSI's solutions are also used to manage the world's fastest mobile network, the world's largest 4G network and the world's largest VoLTE service.
Along with its cloud-native technology, MYCOM OSI has also successfully introduced an innovative subscription-based commercial model option that provides increased flexibility and time-to-market, and leads the industry in its transition towards a SaaS (software as a service) model.
Inflexion acquired MYCOM OSI due to the significant business growth opportunity, as CSPs seek to transform to Digital Service Providers (DSPs), monetize digital, IoT and 5G services, and adopt intelligent solutions that automate network management to reduce operational and capital costs.
Dr Payam Taaghol, CEO at MYCOM OSI, commented: "We've had a great journey through several telecom generations, and have now transformed our company in to a leadership position for the next digital era based on IoT, 5G, automation and AI. We are confident Inflexion's international footprint, combined with their strong digital skills, make them an excellent partner for us as we embark on our next stage of growth."
Simon Turner, Managing Partner of Inflexion, commented: "The team at MYCOM OSI have built up an excellent global client base and re-architected their technology and the company to address the global trend of digital transformation that is underway. With our support, the firm plans to continue to evolve their offering and expand their global footprint. We look forward to working together to continue to grow this exciting business."
President and CTO of MYCOM OSI, Mounir Ladki, added: "We anticipated the telecoms industry's transformation towards on-demand digital services using IoT and 5G and have rebuilt our portfolio in preparation using the very latest cloud-based technologies. As this transformation gathers pace, Inflexion's first-class support will allow us to further expand in the Telco and Enterprise markets and accelerate our roadmap plans to further embed automation and AI to deliver the brain of the autonomic network."
MYCOM OSI's Assurance Cloud™ visualizes, automates and optimizes digital experiences as well as service and network quality across hybrid physical/virtual telco and IT networks by integrating real time assurance with closed loop automation and analytics driven by Artificial Intelligence/Machine Learning.
Powered by MYCOM OSI's Experience Assurance and Analytics™ (EAA) suite of applications, it governs global digital experience as well as service and network quality with an intelligence platform that monitors, detects and heals by leveraging local orchestrators, driving digital transformation initiatives towards autonomic network management.
During 2018 MYCOM OSI received several accolades for its innovation, including winning the coveted TM Forum Excellence Award for Operational Transformation and Agility, being named as a Top 10 Company to Watch by Stratecast | Frost & Sullivan and becoming finalist in Light Reading's Award for Outstanding Digital Enablement Vendor and in two World Communications Awards for NFV Innovation and overall Vendor Innovation.
---
Summary
Leading private equity firm Inflexion invests in market leader of emerging cloud-based telecom operations management market
Source
https://www.mycom-osi.com/news/mycom-osi-acquired-to-accelerate-cloud-based-service-assurance-leadership
---