MOX.tv – international video platform opens up its opportunities for Korean sites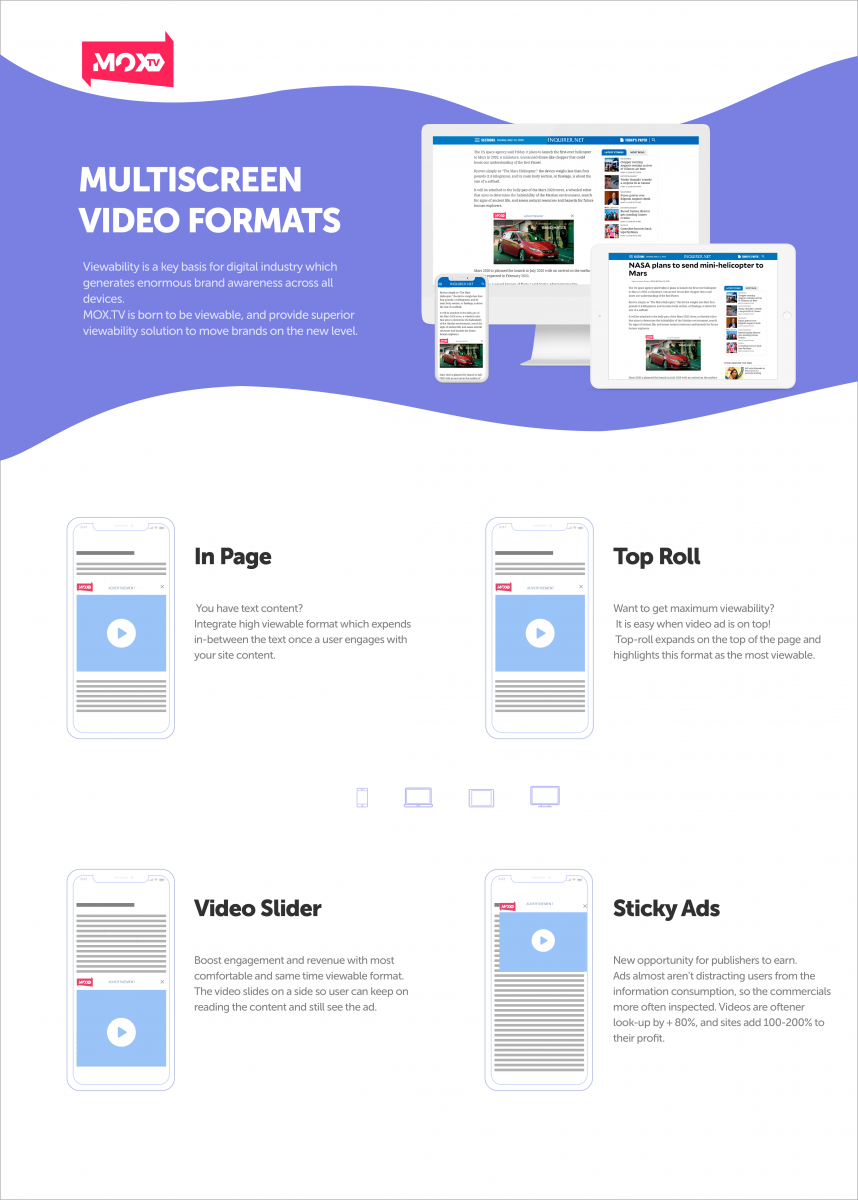 January 9, 2019  ( PR Submission Site ) The company Mox.tv, that created a native video platform for monetizing video traffic, opens registration for sites in Asia. The reason was the high demand for the purchase of video formats by advertisers.
The native platform Mox.tv, which has already recognized as a reliable partner in the markets of Latin America, Europe and the CIS countries, has become one of the few international companies that helps monetize sites in the South Korean market.  Video advertising is on peak of popularity, and in 2019 demand from advertisers will only grow. Sites who don't have own video player have already able to use the technological capabilities of Mox.tv and increase their revenue. The main focus of the platform in customizing native formats with the aim of organic advertising for the audience. Created mobile versions of formats that automatically adapt to each model.
For publishers, two monetization options have been developed:
1. News or thematic sites can use ready-made solutions. For example, Sticky Ads or Slider. To go to the link and register your site (https://ssp.mox.tv/signup/publisher). If you have any questions, our personal support will help you clarify.
2. Sites with their own video content, will be able to earn on In-Stream placement. All you need is to integrate the VAST / VPAID tag, which can also be obtained in your account after registering via the link: https://ssp.mox.tv/signup/publisher
For the company it is important that the needs of publishers and advertisers are taken into as much as possible. Payments in time for publishers and to be in touch when there are questions about setting up units or optimizing profits.
Mox.tv considered the important features of the Asian market and created a product that works at a high level from anywhere in the world. First of all, taking into account the mental characteristics and needs of each region.
---
Summary
FYI MOX.tv it is: Native High-Viewable video platform. Connection publishers and advertisers. Own unique technologies. Multiscreen and cross platform Show up with fresh formats for your audience which starts only when they are in view. - Our formats are innovative to provide you best technological options - Adapted for every user screen for better user reach - Provides best user expirience being comfortable for users The video formats are: In read: Integrate high viewable format which expends in-between the text once a user engages with your site content. How it is work: https://mox.tv/static/demos/inread.html Slider: The video slides on a side so user can keep on reading the content and still see the ad. How it is work: https://mox.tv/static/demos/slider.html In-stream: pre-roll, mid-roll and post-roll. Instream format is a classic way to be in view with your video content. Sticky Ads: The format which expends in-between the text once a user engages with your site content. After user's scroll, the unit places the corner and video still on working but without irritating. How it is work: https://mox.tv/static/demos/sticky.html
---