Mobile Satellite Services Market to Attain USD 5.53 Billion by 2024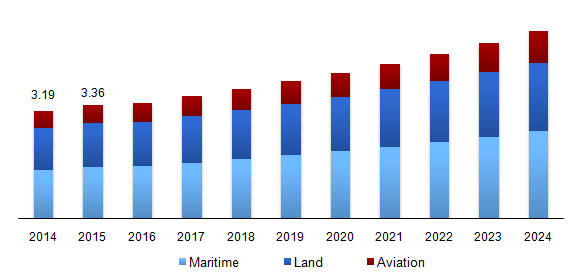 October 11, 2018 ( PR Submission Site ) The Global Mobile Satellite Services Market is anticipated to reach USD 5.53 billion by 2024 on account of its rising demand as it facilitates advanced services where one can send or receive information from any remote location despite the absence of necessary infrastructure. Furthermore, the usage of satellite communication services in the disaster management areas in developed regions is expected to boost the market over the forecast period.
In 2016, maritime was the largest application segment of the market on account of the lack of definite communication infrastructure over sea routes. Increasing accidents on the sea routes and need for proper communication at the time of such events are anticipated to drive the demand for satellite communication.
Messages are conveyed through voice and data services within the MSS market. Conventionally, data has been the largest segment of the market representing that majority of the communication in the form of encrypted codes due to the high level of security offered by it. Sectors such as aviation and defense are the largest users of the service. Nonetheless, voice services are expected to witness growth as a result of increasing technology and communication system.
Browse Details of Report @https://www.hexaresearch.com/research-report/mobile-satellite-services-market
North America held the significant share in 2016 by contributing to over 30% of the overall market share due to the extensive usage of the technology. However, Asia Pacific is expected to witness a lucrative growth due to the increasing use of satellite devices in the defense, government and transportation applications. The launch of 104 satellites by ISRO in February 2017 along with the future planning of more number of a satellite launched is expected to provide an opportunity for growth of the market over the projected period.
The market is consolidated with the presence of a limited number of players. Majority of the global companies implement strategies of acquiring the leading domestic players to increase their production capacity and expand their presence in different regions. For instance, EchoStar Corp. acquired Solaris Mobile Ltd., an MSS operator based out of Dublin, Ireland in January 2014.
The leading players operating in the mobile satellite services include Inmarsat plc.,Globalstar, Iridium Communications Inc., Thuraya Telecommunications Company, EchoStar Corporation, INTELSAT, ORBCOMM, ViaSat Inc., Singtel, and Telstra.
Hexa Research has segmented the global mobile satellite services (MSS) market based on service, application, end-use, and region:
Segmentation by service, 2014 – 2024 (USD Million)
• Data
• Voice
Segmentation by application, 2014 – 2024 (USD Million)
• Maritime
• Aviation
• Land
Segmentation by end-use, 2014 – 2024 (USD Million)
• Defense
• Government
• Transportation
• Mining
• Oil & Gas
• Others
Segmentation by region, 2014 – 2024 (USD Million)
• North America
• U.S.
• Europe
• Germany
• UK
• Asia Pacific
• China
• India
• Central & South America
• Middle East & Africa
Key players analyzed
• Inmarsat plc.
• Globalstar
• Iridium Communications Inc.
• Thuraya Telecommunications Company
• EchoStar Corporation
• INTELSAT
• ORBCOMM
• ViaSat Inc.
• Singtel
• Telstra
Browse Related Category Market Reports @ https://www.hexaresearch.com/research-category/technology-industry
---
Summary
The growing demand for communication devices which provide services such as sending and receiving data from any remote location is the key factor that has been driving mobile satellite services market.
Source
http://bit.ly/2REWwTI
---