MindSpeak Software Released a New Version of Document Writer for Microsoft Office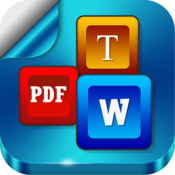 October 6, 2018 ( PR Submission Site ) Document writer is an application that saves you from carrying a bag full of files it is a simple to use application that allows you to carry your work anywhere you want with ease and comfort.
Document Writer features include Document editor, Document templates and samples, Document scanner, Fax, Folders & sub-folders, PDF converter, PDF expert, PDF viewer, Sharing, Spread sheets, Usability features (smooth and easy usage), and Voice recorder.
What's New in Version 4.4.4 :
The new version of Document Writer has been optimized to run on the latest version of iOS, this application has been made Box.net integrated and through this app you can now easily fill out PDF Forms and Sign and Send PDF Files while in a zoom mode. It also has the ability to drag & drop file across file systems. Improvements to Rich Text Editor and Enhanced User Interface provide you a new look of the app.
The applications unique features are encouraged widely and review from the iphoneglance.com state.
"This has to be the best document app we have road tested for use on the iPhone and iPad"
"A very well-developed word processor app that I would definitely recommend…."
Mindspeak Software's Document writer is all in one app which includes all the necessary features that are required in an office to manage work easily.
About Mindspeak Software :
Mindspeak Software is an IT consulting and software development firm with an aim to provide its clients with easily usable and manageable apps.
Mindspeak Software is a company of highly skilled individuals who know their work quite well. Mindspeak Software provides the best solutions and strategies so that our clients can standout in today's economy.
Product Download Link : https://itunes.apple.com/us/app/document-writer-word-processor/id595073719?mt=8
---
Summary
Mindspeak Software has released its updated version of document writer version 4.4.4 only limited to users of iOS. The greatest document managing and editing application is now available for iPad and iPhone.
Source
http://mindspeaksoftware.com/
---