Merge Cars, the New Idle and Tapping Game by EOCodes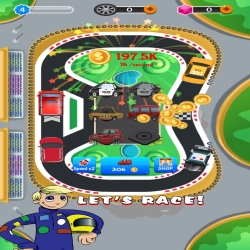 Tampa, Florida ( PR Submission Site ) October 23, 2018 – EOCodes is proud to introduce their new game Merge Cars, the most addictive idle and tapping game that you will like to play anytime, anywhere.  The best feature of Merge Cars is that you are always collecting money, even when your idle. Merge Cars is now available free for Android and IOS devices. It's simple, just merge and upgrade your cars to make them run and make a fortune.
Merge the cars to level up and make a fortune. Use the rubies and double your speed to collect double prices. You will collect money even when you're idle. Merge cars is an idle and tapping game that will make your play for hours.
Device Requirements:
– iPhone, iPad, and iPod or any Android device.
– Requires iOS 8.0 or later (Apple) and 4.0 or later (Android).
– 112 MB (IOS) or 23MB (Android).
Pricing and Availability:
Merge Cars is Free and available worldwide exclusively through the App Store in the Games category.
EOCodes is a Development Company located at Tampa Florida. Established on May 2014 by Emanuel Ortiz. We are working on other games and applications for Apple and Android. All Material and Software (C) Copyright 2014 EOCodes. All Rights Reserved. Apple, the Apple logo, iPhone, iPod and iPad are registered trademarks of Apple Inc. in the U.S. and/or other countries. Other trademarks and registered trademarks may be the property of their respective owners.
Emanuel Ortiz
Developer
United States
---
Summary
EOCodes LLC has announces its new game Merge Cars, available free for Android and IOS.
---