Lady M New York Announces San Francisco Bay Area Pop-Up Boutique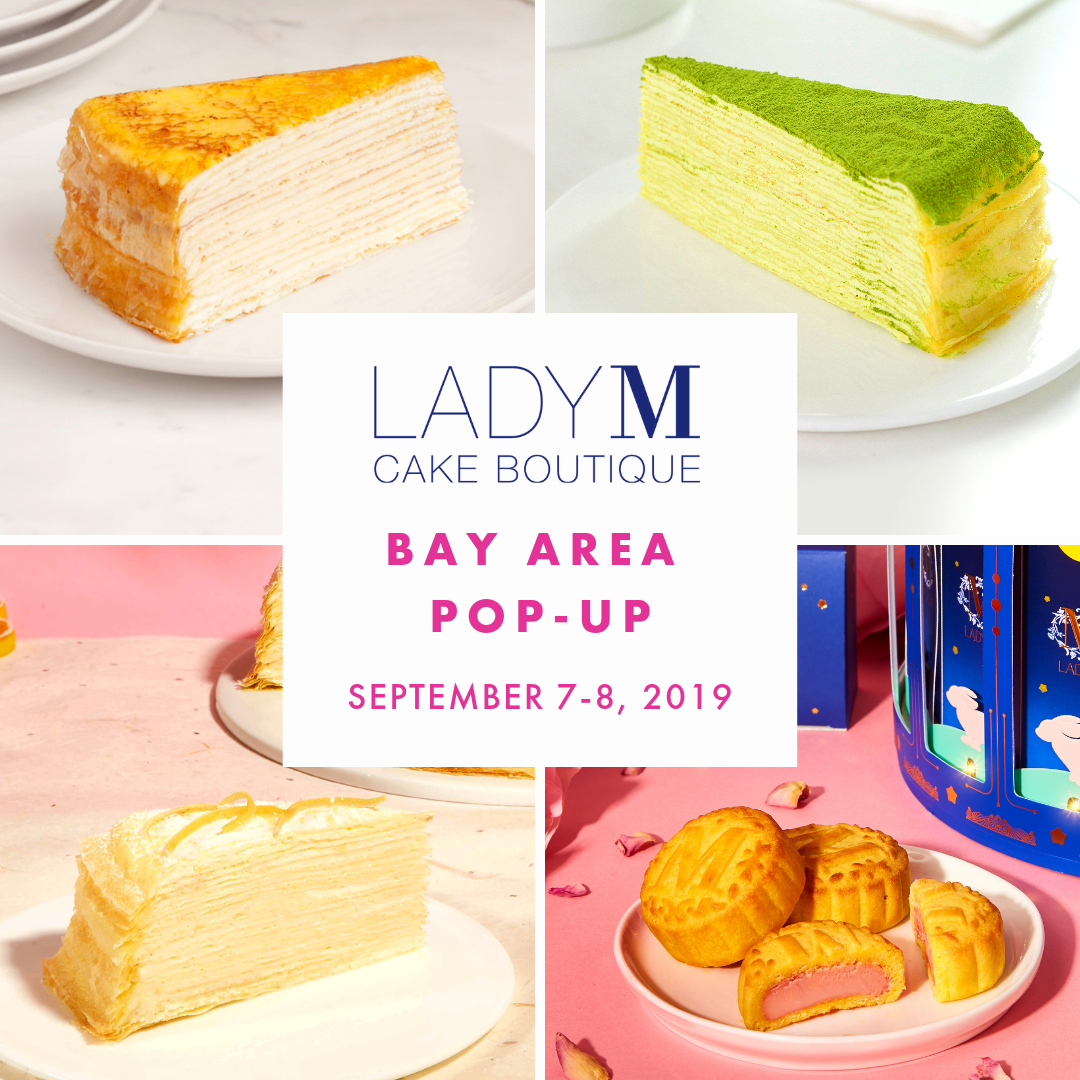 LOS ALTOS, Calif., 09 August, 2019 ( PR Submission Site ) — Hello, San Francisco Bay Area! Lady M New York's Pop-Up Cake Boutique is an ongoing series that takes the beloved cake brand around the world, introducing Lady M's famous Mille Crepes and signature creations to cake lovers in cities without a brick and mortar Lady M New York boutique.
Lady M New York's latest San Francisco Bay Area Pop-Up Cake Boutique takes place at Chef Chu's (1067 N San Antonio Road, Los Altos, CA 94022). The pop-up dates and hours are as follows: Saturday, September 7 (10 a.m.-3 p.m.); and Sunday, September 8 (10 a.m.-3 p.m.).
The Pop-Up Cake Boutique menu selection includes whole 6-inch and 9-inch cakes in the following flavors: Signature Mille Crepes, Green Tea Mille Crepes, and Citron Mille Crepes. Signature Mille Crepes are Lady M's iconic creation, featuring layers of handmade crepes and whipped pastry cream. Green Tea Mille Crepes are Lady M's best selling cake, topped with Japanese matcha. As for Citron Mille Crepes? This cake features lemon custard and beautifully candied lemon zest. This is the first time this cake appears at a Lady M San Francisco Pop-Up.
Just in time for the Mid-Autumn Festival, Lady M will also be offering Lady M's 2019 Mooncake collection. This coveted collection includes eight mini-mooncakes in four exclusive flavors: Green Tea, Chocolate, Earl Grey, and Rose. Each mini-mooncake was inspired by one of Lady M's popular Mille Crepes cakes and created in partnership with Kee Wah Bakery. The mooncakes come hand-packaged in a collectible, animated zoetrope gift box chronicling the famous story of the rabbit and moon. A limited number of mooncake gift boxes will be offered at the pop-up.
Customers are strongly encouraged to pre-order whole cakes and the 2019 Mooncake Gift Box online.
About Lady M New York:
Lady M New York is a New York cake brand with 38 boutiques worldwide. Created in 2001 and helmed by CEO Ken Romaniszyn, Lady M is known as the original creator of Mille Crêpes. Lady M marries classic French techniques with Japanese sensibilities to develop creations that are a touch sweet and perfect for all occasions. Indulge in a world of cakes and confections at ​www.ladym.com.
# MEDIA ONLY CONTACT #
Kaiyi Chu | Head of Growth
press@ladym.com