KLE Technological University partners with Coventry University, UK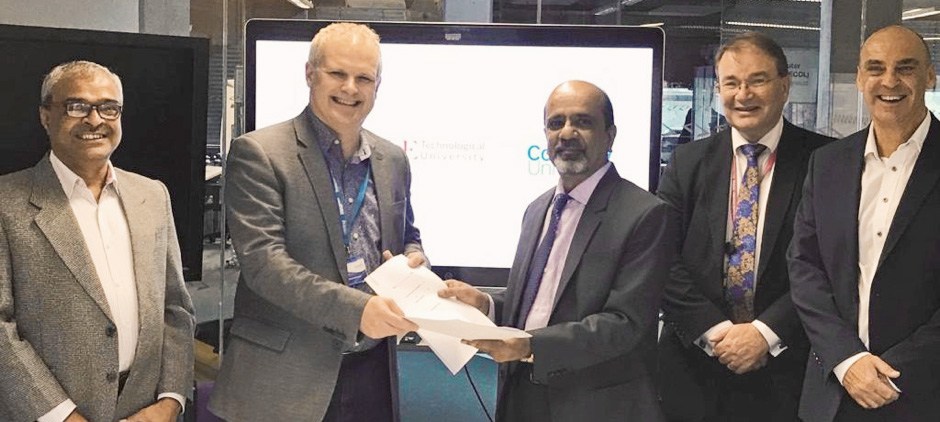 2 February 2019 ( PR Submission Site ) KLE Tech, in its endeavor to create better learning environments to students and giving them multi-cultural exposure, has entered into a MoU with Coventry University (www.coventry.ac.in), one of the leading universities of United Kingdom. Prof. Ashok Shettar, Vice Chancellor signed the MoU with Prof. Richard Dashwood, Deputy Vice-Chancellor (Research) of Coventry University on October 08, 2018.
As per this MoU, both Universities would be collaboratively working in the areas of research, faculty development and faculty and students mobility between both universities.
Coventry University is known for its student centred innovations and collaborative industry practices. It is recognized as the University of the Year for Student Experience by The Times and Sunday Times Good University Guide 2019.  As per Guardian University Guide 2019, it is ranked number 13 in the United Kingdom. From this collaboration, all the stakeholders of KLE Tech are expected to be benefitted.
For more information please visit: https://www.kletech.ac.in
About KLE Technological University:
KLE Technological University (KLE Tech) has its roots in one of the premier engineering institution of Karnataka, B. V. Bhoomaraddi College of Engineering and Technology (BVB), a prestigious engineering college in Hubli. The founding organization KLE Society, Belgaum, established BVB College in 1947 with an aspiration of creating an institution that would lay the foundation of modern engineering education in the northern region of Karnataka.
Over the years, it evolved to reach and hold a unique position of pride in the technical education system of India. As we entered into the 21st century, the college undertook comprehensive reform process to adapt to the challenging global engineering education scenario.
In pursuit of academic excellence, the college attained academic autonomy from University Grant Commission (UGC) in the year 2007. As an autonomous the college, BVB established its distinctive character in the academic space through its curriculum and outstanding student experience.
---
Summary
KLE Tech, in its endeavour to create better learning environments to students and giving them multi-cultural exposure, has entered into a MoU with Coventry University ( www.coventry.ac.in), one of the leading universities of United Kingdom. Prof.Ashok Shettar, Vice Chancellor signed the MoU with Prof.Richard Dashwood, Deputy Vice-Chancellor (Research) of Coventry University
Source
https://www.kletech.ac.in/kle-technological-university-partners-with-coventry-university-uk/
---