J. Allan's Furniture Announces Opening of Textures Warehouse in New Orleans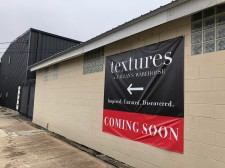 New Orleans (  PR Submission Site )  February 2, 2019 – Textures – a J.Allan's Warehouse will celebrate its grand opening in Uptown New Orleans Feb. 14-16 from 10 a.m. until 5 p.m. Located at 421 9th Street, the warehouse is a sister concept to J. Allan's furniture shops of Brookhaven and Hattiesburg, Mississippi.
Owner Christopher Robinson says Textures will be stocked wall to wall with unique luxury furniture, high-end decor and accent pieces, all for up to 60 percent off suggested retail prices.
Best known for inventory with bold color, playful textures and luxe market finds, J. Allan's is opening Textures in its Crescent City location once a month for three consecutive days at a time. Since J. Allan's revealed the new location of its concept in late December, owners have been posting available pieces on social media to promote the grand opening.
According to Robinson, his team is keeping overhead low and partnering with existing suppliers to bring elegance to consumers at a lower price point. He says guests at the grand opening will find that Textures carries a wide range of high-end furnishings and decor for both indoor and out.
"Not only can our guests expect great deals, but they can also look forward to a fun shopping experience," says Robinson. "We want our visitors to feel welcome and stay a while, browsing our warehouse decor for the perfect pieces to complete their spaces."
The warehouse emits a funky, eclectic vibe with black-and-white walls, quirky displays and an Instagram-worthy mural on the outside wall. Soft accents adorn the furniture, all available for purchase at affordable prices, says Robinson.
Everyone is invited to shop during opening weekend. Like Textures – a J. Allan's Warehouse on Facebook to follow upcoming shopping events.