MOITA Chennai Edition – India's First Trade Awards Organized By FMMMA & SPR Group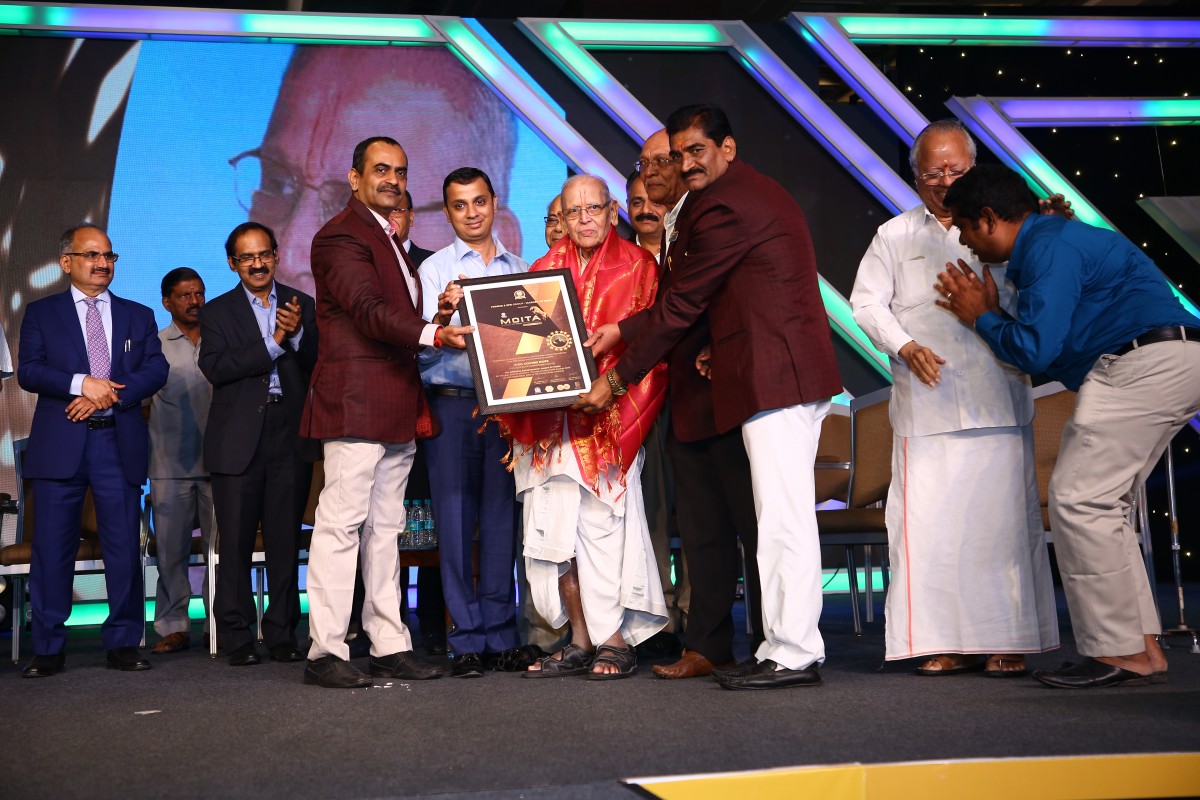 Chennai, 21 September 2019 ( PR Submission Site ) – The Federation of Madras Merchants and Manufacturers Association (FMMMA) in association with SPR Group, held India's first ever trade awards – The Market of India Trade Awards (MOITA).   The event coincided with FMMMA's Silver Jubilee celebration. The Chennai edition of the awards saw Lifetime Achievement Awards being presented to Shri. N Nalli Kuppuswami Chetti of Nalli Silks and to Shri. Govind Das Purushotham Das of Gocoola Das Jumna Doss. Mr. H K Jhaver – Chairman, Jhaver Group of Companies, Shri. Ramesh Kumar Mutha, Managing Director, Mohan Mutha Exports Pvt. Ltd. and Mr. S Chandramohan, Chairman, CII Tamil Nadu State Council were the Guests of Honour. The awards were presented in the midst of a galaxy of prominent business personalities, traders, Shri. Surendar Vyas, President of FMMMA, Shri. Satish H Chavan, General Secretary of FMMMA, Silver Jubilee Celebration Committee: Shri. Pravin M Metha, Chairman and Shri. Hukmichand D Shah, Co-Chairman, and association members.
MOITA was instituted with a vision to elevate the standards of trading by recognizing achievers from various industries and encouraging healthy trade practices. Over 500+ nominations were received from various associations that cumulatively represent 10,000 traders in Chennai. An independent jury panel picked out 55+ winners from various trades – based on predefined criteria factoring in revenues, growth and the contribution made by the traders to the industry.  Some of the prominent awardees included Sangeetha Veg Restaurant, NAC Jewellers, Fybros, Nuts N Spices, Royal foods (India Gate) and Menaka Cards.
The jury panel comprised of 3 members, Mr. Ponnuswami, CMD of Pon Pure Chemicals Group, Mr. Abhaya Kumar Srisrimal, Founder of Shasun Group and Mr. M Murali, CMD of Krishna Sweets.
Honourable Deputy Chief Minister Thiru. O Panneerselvam sent a congratulatory message stating, "I commend FMMMA for its service and hope that its contribution grows in the coming years. Honourable Amma's government will continue to support FMMMA's endeavours. I also extend my congratulations to all the industrialists and entrepreneurs who received the MOITA awards"
Mr. Hitesh Kawad, Managing Director, SPR Group said, "The traders' community is the real backbone of any country's economy and has a huge contribution to GDP and job creation. We have always felt that it needs to be recognised. When we had discussions with FMMMA on their 25th year celebrations, the idea of MOITA – Market of India Trade Awards, our long dream of rewarding traders, was formalised. As a developer, we have always focused on creating an eco-system-based real estate development that fosters growth and well-being. At the MOITA awards, we're taking that vision a step further and intend to create 'Excellence Ambassadors'.  We sincerely believe in the recognition chain of society and that traders need to move up the ladder to contribute to the economy. It will not only promote best trade practices but also enhance fellowship among traders."
Mr. Surendar Vyas, President, FMMMA said, "FMMMA has been dedicated to trade and has represented the interest of traders over the years. We are now in our 25th year of service. The idea to organize MOITA was jointly conceived by SPR Group and FMMMA. Independence and integrity are at the core of this award and the baton to decide on awardees was handed over to Members of Independent Jury who are highly successful and well-regarded for their impeccable record."
SPR Group is the developer behind Market of India, India's largest wholesale market with 5000+ shops and offices. Built to overcome the current trading challenges witnessed in unorganized traditional Indian markets, the wholesale centre provides a cohesive marketplace for business, and is expected to rival the biggest trade centres in China. Providing world-class infrastructure, warehousing, logistics, supply, and trade ecosystem, Market of India is expected to transform India into a trade destination and will provide enable traders in India and South Asia to expand their business.
FMMMA, was formed in 1994 and has currently grown into a 42-member strong body comprised of various trade associations and represents almost all trades comprising over 15,000 traders. FMMMA has always been at the forefront in educating the traders on various taxation laws, regularly conducting seminars etc.
With the Chennai Edition of MOITA – India's first ever trade awards wrapping up successfully, SPR Group plans on taking MOITA to other cities and making it an annual awards function that will recognize and honour the leaders and achievers in various industries.
---
Summary
MOITA Chennai Edition – India's first trade awards organized by FMMMA & SPR Group Founders of Nalli Silks and Gocoola Doss Jumna Doss honoured with Lifetime achievement award at the MOITA Awards
---