All India HUM Senior Survey 2.0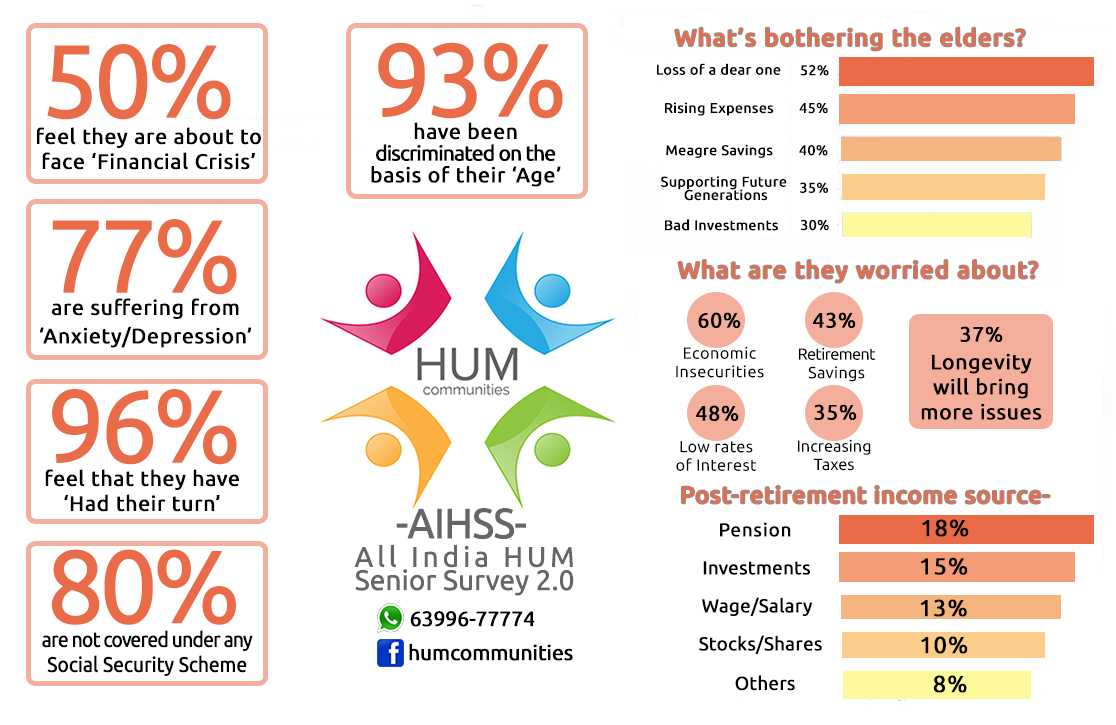 Dec 5, 2018 ( PR Submission Site ): By 2050 India will have more than 30 crore people over 60 (which is about the same as the present population of the USA). Here' a look at what they are thinking. The AIHSS 2.0 (All India HUM Senior Survey 2.0) released by HUM Communities of over 6178 Elders (retired/senior citizens over 50 years) in tier 1 and tier 2 cities across India has shown that-
1. 40% men and 10% of women over 60 are working for their survival.
2. 77% are suffering from Anxiety/Depression.
3. 93 % have been discriminated on the basis of their 'Age'.
About HUM Communities
A social enterprise focused on the betterment of the lives of retired/senior professionals in our society, HUM Communities is India's first and leading platform for senior citizens and retires which is working with the mission of getting Jobs, Information and Engagement for retired seniors, many of whom still want to work. A platform which can facilitate MSME's getting highly experienced and stable candidates with 25+ years of experience in their niche while saving on the monthly salary cost (up to 50%) & contributing towards a more inclusive economy for the seniors. Additionally, they are also operating and developing community groups of like-minded seniors across 25 cities on various social media platforms based on their interests like grand parenting, gardening and to promote healthy ageing, yoga, spirituality & positive news.
Results of the survey R K Vij, Founding Partner at HUM communities said," Although, advance healthcare has lead to fewer and fewer cases of people suffering from 'Dementia', the real epidemic now is 'Anxiety & Depression' among the elders in India." While only 16% of the people surveyed indicated that they knew someone intimately with age-related memory issues, almost 77 % indicated thinking or worrying about it.
"What saddens senior the most is that around 93% of them said that younger people frequently made them feel that, the limited resources which are available, should be spent on themselves rather than on elders." pointed out Kritarth, Founding Partner at HUM Communities.
"Another important/interesting finding of the 2nd survey is that 96% of people surveyed said that they are made to feel that they have 'had their turn' and should make way for the younger generations. I deeply feel it's quite unfair when someone who is willing to work and has the capability to excel, is not offered a suitable opportunity on the basis of his/her age." Adds Kritarth. The previous generation of elders (born during 1930's) had a very different perception when it came to retirement; the ideology of depending upon the younger generations for the rest of their days and simply waiting for the ultimate reality was very common among them, but AIHSS 2.0 has shown that this is not the case anymore!
The new generation elders (born during 1960's) perceive old age as a new beginning to kick start the 2nd innings of their life. Most of them are full of zest and are willing to work hard even after retiring to remain financially secure and independent for the rest of their day. "This opens an entire category for advertisers & companies" emphasis Kritarth.
Population ageing –
Population ageing is an irreversible reality which highlighted in the survey & it exists because of radical improvements in health and medical care. With longevity and declining fertility rates, the population of senior people (60 years and above) is growing faster than the general population. The survey also shows that old-age dependency in the population is gradually increasing. The shift from a period of high mortality, short lives, and large families to one with a longer life, far and fewer children is the major cause behind this transition This means that the elderly have to depend upon incomes and revenues generated by a dwindling number of younger workers. Based on the 2011 Census, the overall old-age dependency ratio shows that there are over 14 elderly per 100 working age population, with significant variations across states.
"I read the survey report and found that 62% of the elders remember being told in the past 1 year that they should "act their age" and felt uncomfortable dressing like younger people & eating at places where they used to as youngsters. This is not just not okay!" Mr. Tandon, a HUM Volunteer/Admin.
Insecurity due to meagre personal Income –
Our previous survey indicates that 24% of men and around 62 % of women (above the age of 58) do not have any personal income. However, if income primarily accrues from their work, it is very likely that their dependence on work will increase with age. AIHSS 2.0 shows that amongst the people in the age group of 58-70, 80% men and 55% women (who had worked at some point in their lives) were extremely willing to take on new challenges & Income insecurity is one of the major causes of vulnerability among them. Elderly people in India not only work to support themselves but also make economic contributions to their households.
NO Social Security –
Over 80 % of the elders (55+) in our country are not covered under any adequate social security schemes. Therefore, most of them are economically insecure and need to depend on their meager savings or entirely on their children for sustenance. In the absence of any such support, many of them suffer a loss of independence and self-dignity. AIHSS 2.0 states that 40% elders feel that their income post retirement doesn't cover basic services like food, water, electricity, and decent housing and almost 70% of them said they have trouble accessing 'quality healthcare'.
HUM Communities is on a mission to spread the awareness of hiring senior/retirees and how MSME's can benefit from their experience. Out of the 200+ employers approached by them so far more than 50 of them have shared requirements and have given roles like Wealth Advisors, Mentors, Managers, Writers, Trainers, Assessors, Auditors, Accountants, Liaoning, and Recruiters amongst others that are available with them. At present HUM Seniors are working in MNC's like Baja Capital, Genpact, and startups in IIT Delhi like Vizara Technologies, Sanfe India to mention a few.
"With people living longer, we have a good chance of balancing the U curve of happiness so that their last 20 years are as happy and carefree as the first 20. Longevity is here to stay. A movement to end ageism is underway. I'm in it, and I hope you will join me in it." Adds Mr. Vij, the 78-year-young entrepreneur.
---
Summary
The AIHSS 2.0 reveals the mental condition of Elders in India
---