Ensure High Visibility With Attractive And Affordable Posters From PrintPapa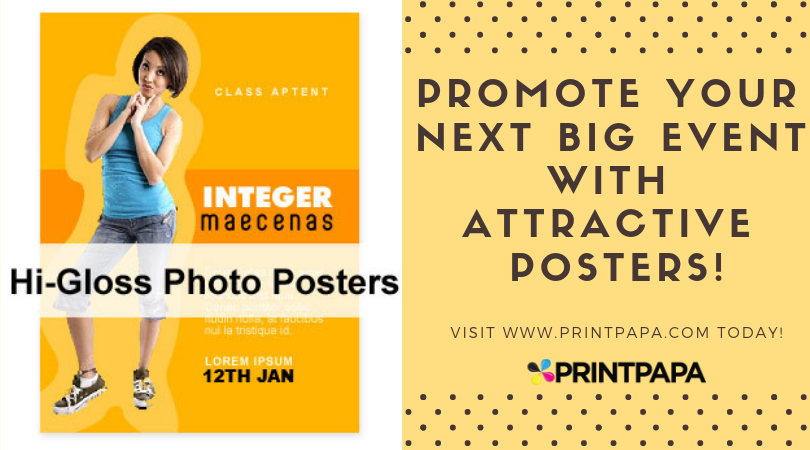 California, 20 September 2019 ( PR Submission Site ) – Now, give your brand enormous visibility in your city. PrintPapa brings you the most affordable online printing package for your promotional poster printing. If you want to attract your local customers without burning a hole in your pocket, there is no better solution than opting for PrintPapa. Founded in 2005, this company has 15 plus years of experience of in catering to the needs of the local small and large businesses. With their affordable pricing and the high-quality printing, they have won a lot of hearts.
We got to talk to Timothy Tsun, an entrepreneur, who has availed high quality printing services from PrintPapa. While talking about his experience, he said, "Easy, affordable and fast turnaround along with good communication from the staff. I have used their service for deliverables such as posters, envelopes and business cards. For me, they are a great vendor and local so that they can serve my last minute production needs." So, now you can see where all your needs for online printing services will be met.
Why PrintPapa for Poster Printing
Started as a provider of 1 & 2 color offset printing services, PrintPapa is now a reputed name in the industry of online printing that has garnered enough reputation for being a trusted name. "Fast, good and cheap," as their customers like to say about them, PrintPapa has 10 different types of printers that not only provide a plethora of options but also ensure the best quality. Their poster printing service includes,
Full-color printing
Guarantee on outdoor exposure
Affordable pricing
Monthly deals
Fast turnaround and 100% client satisfaction
So, now as you know why PrintPapa is the best choice for online poster printing, don't wait anymore. Visit http://www.printpapa.com or call at 408-567-9553 right away.
About PrintPapa
PrintPapa is a Santa Clara, California based company, providing high quality printing services at affordable prices. Ideal for small and medium-sized businesses, PrintPapa is a trusted name in North America for printing. For bulk order and other information, visit
http://www.printpapa.com
or call at 408-567-9553.
---
Summary
Now, maximize the chance of higher visibility with effective poster printing. PrintPapa offers you affordable printing service online.
Source
https://www.printpapa.com/
---