Growing Investments by the Government in Logistics Infrastructure and Enhancing Economy Presents Highly Favorable Environment for Thailand Logistics and Warehousing Market: Ken Research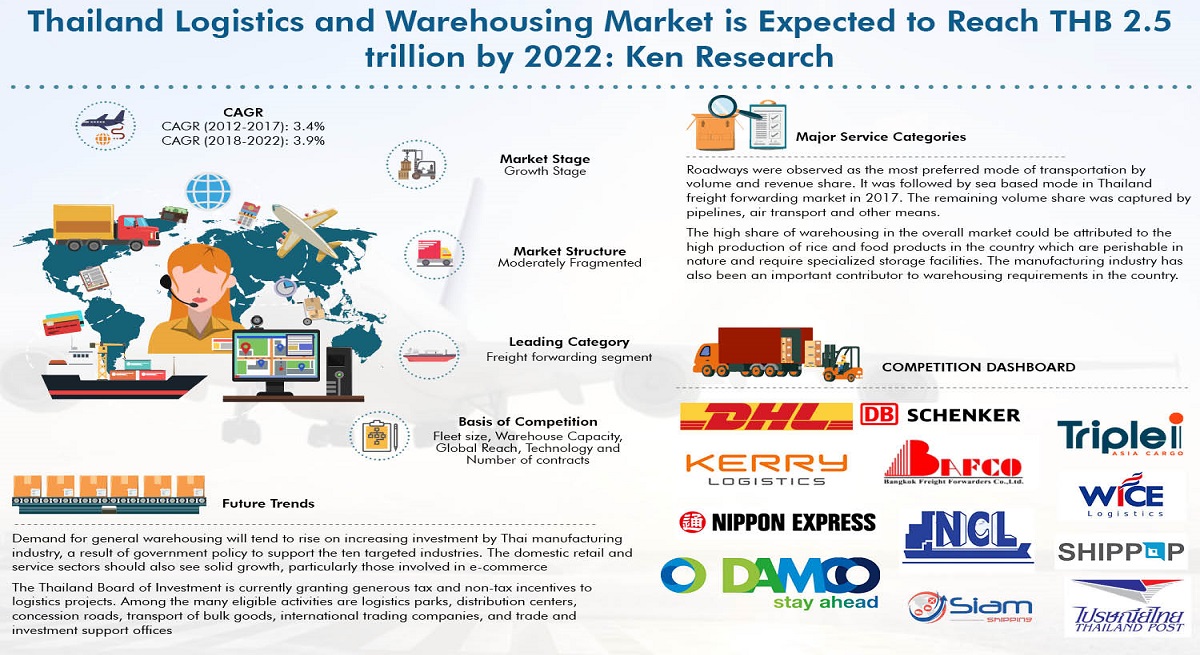 October 10, 2018 ( PR Submission Site ) Thailand currently shares its borders with 4 neighboring countries with a total length of 5,582 kilometers. This poses as a strategic location for Thailand which counts as major strength for Thailand logistics sector
Logistics service in Thailand comprises a range of activities that look over at the procurement as well as final delivery of raw material and finished products. These services include freight forwarding, warehousing and other value added services such as customs brokerage, inventory management, order fulfillment and product repair. Expanding FMCG sector, retail sector, food and E-commerce industry and the booming automobile and electronics industry has attributed towards the growth of logistics and warehousing industry in the country.
Surging demand for wearing apparels, rubber and plastic products, heavy machinery, electrical appliances, motor vehicles and other transport equipment has expanded their production over time. Rapid growth in the country's manufacturing sector exports was one of the major driving forces for Thailand's freight transportation.
In addition to Thailand's focus in shifting to multimodal transport, Thailand Board of Investment (BOI) is actively promoting logistics systems development in the country. In 2015, the BOI received a total of 75 project applications worth THB 8.1 billion (USD 233 million) in the logistics industry. There is also an increasing demand for Multimodal Transport Operators (MTOs), as the government's policy aims to develop border areas and improve Thailand's connectivity with its neighboring countries. Special Economic Development Zones (SEZs) have been established in these border provinces to help raise people's standard of living though trade and investment promotion
Logistics market is expected to generate long-term FDI flows into technology driven manufacturing segments such as electronics and automotives thereby creating pressure on existing logistics players to upgrade their capabilities in near future. In addition to this, large proportion of investment made by the government has led to the development of efficient transport and logistics services majorly focusing on the development of the railway network to complement the well developed road network.
Further, Major ports such as- Chabang Port, Bangkok Port, Chiang Saen Port have witnessed major upgrades in the past few years as a strategy to upgrade the logistics infrastructure of the country and utilize the important geo-strategic location to position Thailand as the gateway to ASEAN countries. Overall, the country has become one of the lucrative destinations for foreign entities thus creating a positive impact on the country's logistic market.
The report titled "Thailand Logistics and Warehousing Market Outlook to 2022 – By Freight Forwarding, Express Logistics, E-commerce Logistics and Warehousing Services (Industrial/ Retail Freight, Container Freight, Cold Storage, Agricultural and Others), Third Party Logistics" by Ken Research suggested a modest growth at a five year CAGR of around 3.9% in terms of revenue in Thailand logistics and warehousing market in next 5 years till the year ending 2022.
Key Topics Covered in the Report
Thailand Logistics Cost
Thailand Logistics Market
Transport Infrastructure in Thailand
Road Freight Market in Thailand
Number of Freight Forwarders in Thailand
List of Freight Forwarders in Thailand
Thailand Transport Infrastructure
Container Freight Warehouses in Thailand
Warehousing Services in Thailand
Warehousing Services in Bangkok
Domestic Warehousing Companies
For more information on the research report, refer to below link:
https://www.kenresearch.com/automotive-transportation-and-warehousing/logistics-and-shipping/thailand-logistics-warehousing-market/163820-100.html
Contact Us:
Ken Research
Ankur Gupta, Head Marketing & Communications
+91-9015378249
---
Summary
The report provides a comprehensive analysis of logistics and warehousing services in the Thailand. The report focuses on overall market size for logistics and warehousing in the Thailand, Thailand freight forwarding market size
Source
https://www.kenresearch.com/automotive-transportation-and-warehousing/logistics-and-shipping/thailand-logistics-warehousing-market/163820-100.html
---