Global Interactive Kiosk Market Expected Of 7% CAGR Estimated At US$ 3 Billion In 2022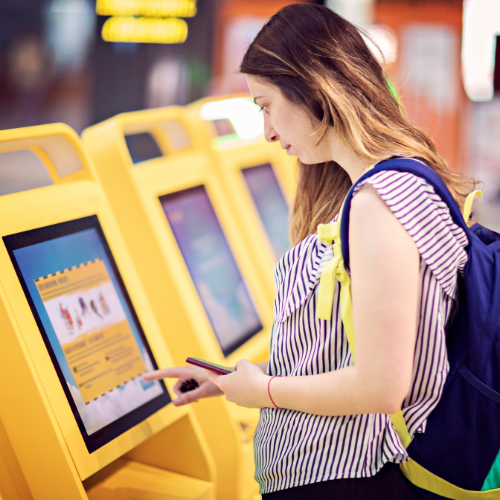 December 27, 2022 ( PR Submission Site ) –
Global Interactive Kiosk Market is a report that assesses the global interactive kiosk market based on type, display, location, application, operating system, end user, and region. The report includes trend analysis and historical market data. RationalStat offers market share analysis, production capacities of the top companies, and Covid-19 impact analysis. It also provides a competition overview, market strategies, and growth areas for the target market players in the global interactive kiosks industry study.
Global Interactive Kiosk Market Overview & Dynamics
Growing demand for self-services coupled with the technological advancements in this market will fuel the growth of the global interactive kiosks demand.
Global interactive kiosks are expected to grow at 6.9% CAGR over the forecast period 2022-2028. There is a growing demand for self-service payment terminals such as vending machines, automated check-ins, car rental kiosks, and online queue systems. Self-ticketing machines, photo kiosks, and employment kiosks are some of the common kiosks available in the marketplace.
The growing number of smart cities, improved lifestyles, urbanization, and soaring technological advances with the integration of cloud computing, AI, and machine learning are major factors responsible for driving the market for interactive kiosks.
Interactive kiosks are already having a positive impact on the automotive industry. Self-service technology is changing the way people buy cars. It is also making its way into other auto-related services such as car sharing and car service. The expansion of car-sharing programs has helped to boost the electric vehicle charging kiosk industry.
Market Segment Analysis
Based on the location, indoor interactive kiosks dominated the market due to growing interest in automation and self-service technology, reducing labor shortages and providing ease to both the customers and the organization.
Based on End-use, Fast-food restaurants hold a prominent share in the global interactive kiosks market owing to the increase in the customer serving capacity by QSRs and casual dining restaurants.
Based on region, Asia Pacific holds a dominant share of the global interactive kiosks market advancements in Near-Field Communication (NFC) and Radio-Frequency Identification (RFID) in security applications.
Competition Analysis
The emergence of QSRs and casual dining venues are expected to lead the growth of the global interactive kiosk market in the upcoming years.
Due to the presence of many well-established companies in the global interactive kiosks market, there is intense competition in the global interactive kiosks market. The global interactive kiosk market is expected to witness growth in the forthcoming years as more and more international brands are focusing on installing interactive kiosks at their stores to streamline the ordering and billing process.
Acquisitions, product launches, and partnerships are the identified industry trend in the global interactive kiosks market. Significant consolidation is expected in the global interactive kiosks market during the forecasting period 2022-2028.
In May 2022, Peerless-AV® announced the EMEA launch of its new Motorised Trolley for large format displays up to 98". It is simple to set up and use, and it comes with a special feature set in line with contemporary presenting standards, such as digital height control settings and a built-in pressure sensor for safe use in any educational or corporate environment.
In May 2022, Diebold Nixdorf was chosen by Forex for comprehensive ATM-managed services. It is enlarging its fleet with DN SeriesTM devices and outsourcing the operation of its entire ATM channel to Diebold Nixdorf.
Some of the prominent players that contribute significantly to the global Interactive Kiosk market growth are Advanced Kiosks, KIOSK Information Systems, Diebold Nixdorf Inc., RedyRef Interactive Kiosks, Source Technologies, Acrelec SAS, Frank Mayer and Associates Inc., Meridian Kiosks, Peerless-AV, Olea Kiosks Inc., Honeywell International Inc., DynaTouch Corp., Kiosk Group Inc., Lilitab LLC, Nanonation Inc., Parabit Systems Inc., Zebra Technologies Corp., TEAMSable Inc., Pyramid Computer GmbH, Self-Service Networks, and Glory Global Solutions (International) Limited among others.
Segmentation
RationalStat has segmented the global interactive kiosks market on the basis of type, display type, location, application, end-user, and region.
1. By Type
Check-in Kiosk
Payment Kiosk
Information Kiosks
Vending kiosks
Internet Kiosks
Others (Wayfinding Kiosks etc.)
2. By Display Type
3. By Location
Indoor
Outdoor
By Operating System
Android
Windows
4. By Application
Ticketing
Registration
Billing
Check-in
Others (Order Entry etc.)
5. By End User
Fast-food Restaurants
Education
Transportation

Airports
Railway Stations
Metro Stations
Bus Stations
Others (Taxi Stands etc.)

BFSI
Healthcare
Hospitality
Retail
Automotive
Municipalities
Others (Warehouses, Gaming & Entertainment, etc.)
6. By Region
North America
Latin America

Brazil
Mexico
Rest of Latin America

Western Europe

Germany
UK
France
Spain
Italy
Rest of Western Europe

Eastern Europe

Russia
Poland
Rest of Eastern Europe

Asia Pacific

China
Japan
India
South Korea
Australia
ASEAN (Indonesia, Vietnam, Malaysia, etc.)
Rest of Asia Pacific

Middle East & Africa

GCC
South Africa
Turkey
Rest of the Middle East & Africa
You can get more information about this report here.
About RationalStat LLC
RationalStat is an end-to-end US-based market intelligence and consulting company that provides comprehensive market research reports along with customized strategy and consulting studies.  The company has sales offices in India, Mexico, and the US to support global and diversified businesses. The company has over 80 consultants and industry experts, developing more than 850 market research and industry reports for its report store annually.
RationalStat has strategic partnerships with leading data analytics and consumer research companies to cater to the client's needs. Additional services offered by the company include consumer research, country reports, risk reports, valuations and advisory, financial research, due diligence, procurement and supply chain research, data analytics, and analytical dashboards.
Contact
RationalStat LLC
Dorinda Erwin, Content and Press Manager
sales@rationalstat.com
Phone: +1 302 803 5429