Giftalove.com Launches Midnight Flowers Delivery Service This New Year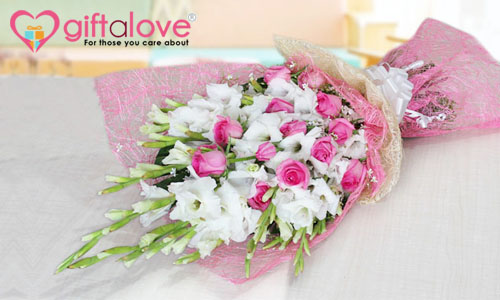 New Delhi, February 8, 2019: ( PR Submission Site ) Giftalove.com, a premier online gift portal, recently launched midnight flowers delivery across all major cities in India. The announcement comes as a pleasant New Year gift for its customers who can now surprise their family & friends with flowers delivered at their doorstep at midnight. Additionally, the company also introduced their catalog to express flowers delivery in India.
When it comes to special festivities, nothing beats the joy of having lovely surprises. Keeping this thought in mind, Giftalove initiated providing midnight surprises to their valued customers. The online gift portal makes it easy and convenient for people to send flowers to their beloved ones and get them delivered right at midnight to watch them in sheer delight and awe. Rest assured, this amazing midnight surprise will bring an instant smile to the faces.
Midnight flowers delivery service is available on various special occasions such as birthday, wedding anniversary, New Year or Valentine's Day. These are the times when people eagerly wait for warm wishes and fascinating gifts that would make the day most enjoyable. And imagine the happiness when the gift arrives right at midnight, expressing heartfelt love and sentiments of the sender. Midnight surprises certainly add a zing to the celebration, making the person feel most valued and loved.
In addition to this, Giftalove.com also provides express flowers delivery for a selected range of products. Customers can choose from a vast selection of flower bunches, mixed flowers bouquets, decorative flower baskets, and beautiful glass vase arrangements to avail express delivery service across all major cities in the country. There is a vivid variety of flowers to pick from including roses, daisies, carnations, daffodils, lilies, gerbera, tulips, and many others.
The online gift shop has come an extra mile in providing pleasant surprises to its customers. They have a wide spectrum of combo gifts, meticulously chosen to make any occasion even more exceptional. Flower with cake is one of their best-selling products where one can choose their favorite flowers and cakes, and send the same to their dear ones on special celebrations. A combination of flower and cake makes any festivity complete and joyous.
Besides exquisite floral gifts, Giftalove.com also provides a large selection of cakes for all occasions. There is a delectable variety of flavors to choose from – fresh fruit, chocolate, butterscotch, vanilla, pineapple, and cheesecakes. Pick from a multitude of cakes for every occasion including birthday, wedding, Valentine's Day, New Year & Christmas, and anniversary cakes. The most popular choices are photo cakes, designer cakes, heart-shaped cakes, cartoon cakes, and cake combos such as flower with cake.       
The portal also has the largest variety of gifts online including everything from apparel, handicrafts, accessories, lucky plants, spiritual gifts, silver sets, clocks, coffee mugs, key chains, chocolates, gift hampers, and personalized gifts. Every gift is made special by adding personal messages for the recipient.
To know more about their delivery service, visit https://www.giftalove.com/flowers.
About Giftalove.com
Giftalove.com is a one-stop shop for a wide range of gifts, flowers, and cakes online. The portal is an initiative by Primo Gifts Pvt. Ltd., reckoned for their exceptional product line and excellence in customer service. With over 50,000 products, the online gift shop provides prompt delivery services in India and across 100+ countries. For special occasions, they also provide same day delivery, express delivery, and midnight delivery services.
Contact:
Phone: +91-888-200-1155
Email: support@giftalove.com
---
Summary
The popular online gift shopping portal introduces midnight flowers delivery in India. With this special initiative, customers can now surprise their loved ones on special occasions.
---