Elkos Pens introduces new gel pen – Boom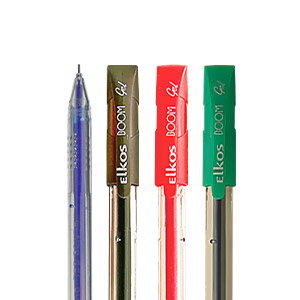 February 7,2019  ( PR Submission Site ) Elkos pens, a leading brand in the writing instrument industry, has unveiled a new gel pen BOOM(https://www.elkospens.com/gel-pens-boom.html), a new addition to the gel pen line of products .
Known as the champion of uncomplicated design, Boom gel pens offers the consumer preferred performance in a simple style.  This gel pen features quick start time and smooth flowing ink for an extra comfortable write.Boom is available in black,blue,red, and green ink and body colors.  Also includes a mat finished cap for that elegant look and feel.
"In an effort to meet consumer's varying needs we are constantly creating to bring new tools to the writing world.  Boom is the new pen of choice for supreme communication and will certainly add an entirely new dimension to writing and crafting."said Mr. Vijay Singh, Assistant Manager- Marketing, Elkos Pens Ltd.
Packaging;
5 pcs pouch
250 pcs Inner box
2500 pcs Master carton
Pricing and Availability:
Elkos Boom gel pens are now available with retailers across India.They have been priced very competitively at Rs10 per pc. You can follow the latest company updates on https://www.facebook.com/elkospens
About the company
Elkos Pens Limited was incorporated in the year 2003-04 as manufacturer and exporter of ball pen, gel pen, direct fill pen, sketch pen and refills.
ELKOS Pens has been certified by the standards of ISO 9001:2008(QMS), awarded the prestigious Government of India registered One Star EXPORT HOUSE & has a distinguished honour of being stationery partners in reputed Indian educational institutes like IIT's & IIM's
========================================================================
Company Name : Elkos Pens Limited
Address : 16 Strand Road, Diamond Heritage, 10th Floor, Office No : 1015A, Kolkata – 700 001 West Bengal, India
Phone : +91-33-6607-9643 /+91-33-6607-9644
Url : https://www.elkospens.com/
---
Summary
Elkos pens, a leading brand in the writing instrument industry, has unveiled a new gel pen BOOM
---