EC-Council University and GNA University Announce Partnership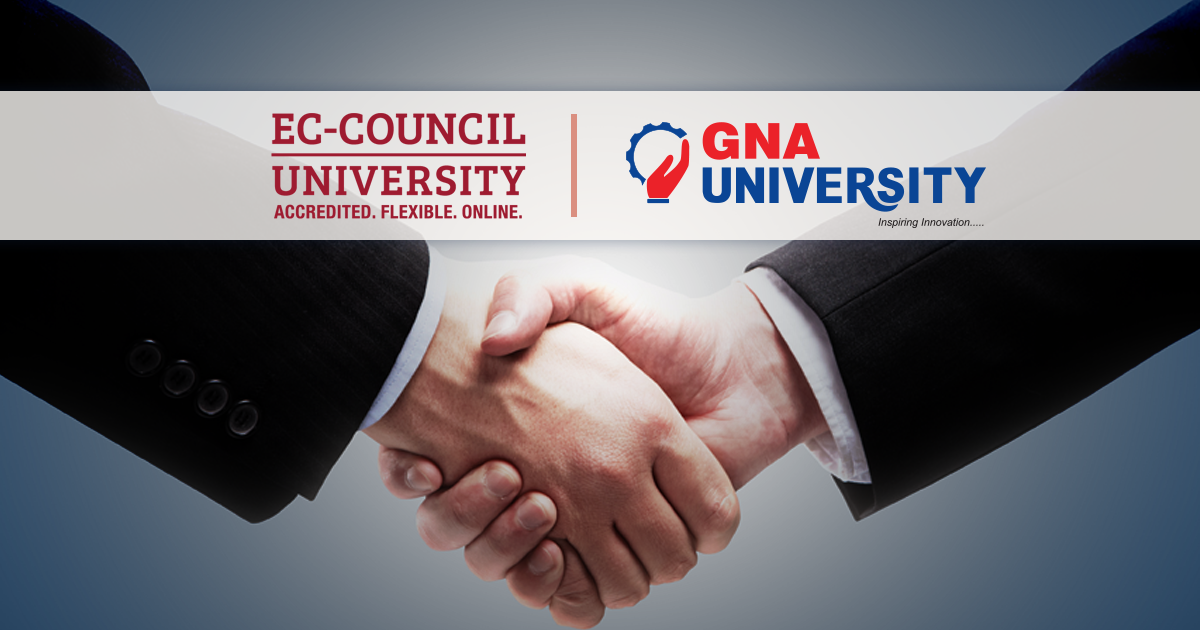 January 25, 2019 ( PR Submission Site )  EC-Council University (ECCU) announced a partnership with GNA University (GU) to promote educational and career opportunities for the students of GNA University, in India, on Tuesday (22 Jan 2018).
Job recruitment experts in India claim that there are over 30,000 vacancies in the cybersecurity industry in the country. With the country witnessing at least one crime every ten minutes, it is apparent that the demand for cybersecurity professionals is on the rise.
Through this partnership, GNA University students can receive EC-Council's industry certifications which are embedded within the courses of their degree programs. The cybersecurity courses will be provided by ECCU and be imparted by professors that are industry experts with applied practitioner-focused curriculum and delivered online.
GU shall have the opportunity to collaborate with globally recognized EC-Council's Cyber Security curriculum and tie up with an American University accredited by the Distance Education Accrediting Commission (DEAC).
Lata Bavisi, President of EC-Council University said: "India continues to be a region of key importance for the cybersecurity workforce development and we are looking to build more partnerships with major institutions in India, such as GU. We strongly believe that our partnership will benefit the growing cybersecurity skill-gap in the nation."
Gurdeep Sihra, President of GNA University said: "This partnership will definitely lead to better employability of students across the world and students can work on various roles of security analyst, Security Engineer, Forensic Computer Analyst, Penetration Tester, Security Architect, IT Security consultant etc. and meet the needs of the industry in India and across the globe."
About EC-Council University
EC-Council University was founded in 2003 by the Chairman of the Board, Mr. Sanjay Bavisi, to educate and train information security professionals across the globe. It currently offers a Masters and Bachelors of Science in Cyber Security as well as, five graduate certificate programs to provide students with a strong foundation and preparation in management and leadership. EC-Council University places value on the qualities of ethical behavior, innovative thinking, critical thinking, scholarship, and leadership to help promote and advance the goal of educating information security experts, preparing them to make the world safer and more secure for everyone.
EC-Council University is accredited by Distance Education Accrediting Commission (DEAC)— a private, non-profit organization that operates as a national accreditor of distance education institutions. Accreditation by DEAC covers all distance education activities within an institution and it provides a single source of nationally recognized accreditation. DEAC is listed by the U.S. Department of Education as a nationally recognized accrediting agency as well as an acknowledged member of the Council for Higher Education Accreditation (CHEA).
EC-Council International, the parent company of EC-Council University, is a world leader in certifying professionals in these skills and techniques. The company is the creator and owner of several internationally-recognized certifications including Certified Ethical Hacker (CEH), Computer Hacking Forensics Investigator (CHFI), Disaster Recovery Professional (EDRP), Certified Network Defense Architect (CNDA), Certified Security Analyst (ECSA), Certified Secure Computer User (CSCU), Network Security Administrator (ENSA), and License Penetration Testing program (LPT) among others in more than 150 countries.
EC-Council has certified more than 220,000 information security professionals worldwide.
To know more about EC-Council University visit: https://www.eccu.edu/
About GNA University
GNA University (GU) is designed to be a leading higher education organization engaged in creating, preserving and imparting knowledge to a diverse community of students. The University "aspires to nurture value-based leaders who have knowledge and skills to create success in their organizations.
The university seeks to improve the quality of life through eclectic blend of science, technology and humanities for innovative solutions to real life problems. The university is engaged in imparting, creating, preserving and propagating knowledge in the global context"
The unique feature of the programs conducted at the University is the focus on experiential learning, industrial internships, learning to learn principles, flexible, credit-based study programs and holistic development of personality which in turn will ensure employability of the students.
The GNA University benchmarks itself with leading institutions across the world in terms of intellectual capital, academic quality, delivery practices, and industry linkages. The University credo includes focussing on meritocracy, transparency, accountability, ethical behavior, and service orientation.
---
Summary
EC-Council University - Thursday, January 24, 2019. Submitted by EC-Council. EC-Council University (ECCU) announced a partnership with GNA University (GU) to promote educational and career opportunities for the students of GNA University, in India, on Tuesday (22 Jan 2018).
---