EC-Council Gears Up for the Oman CyberSec Summit 2018 with the Goal of Creating a Resilient and Cyber Secure Nation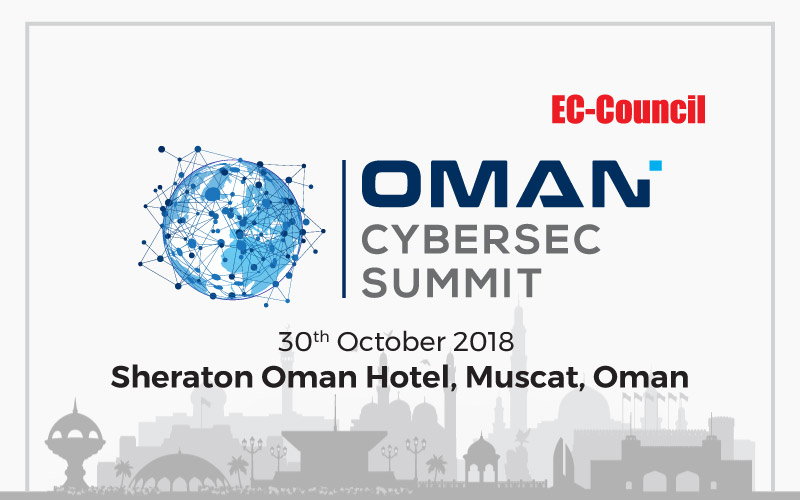 October 30, 2018 ( PR Submission Site) Oman is the top-ranked cyber secure state by the International Telecommunication Union (ITU) and therefore, the Information Technology Authority of Oman is working very closely with the government to ensure that they have resilient cybersecurity infrastructure. The Oman CyberSec Summit 2018 aims to focus on the importance of integrating modern technologies into cybersecurity to cope with advanced threats in real-time.v
"Security generally drives innovation. Every time an organization or institute finds that their security is at risk, a new technique has to be introduced to bridge that gap." Jay Bavisi, President of EC-Council Group.
The summit will cover crucial topics like the technical advantages and ROI of SOCs, technical innovations related to Blockchain, AI, and IoT; revolutionizing cybersecurity and blockchain technology; and other concepts that will contribute to the fourth Industrial Revolution of Oman.
"Technologies such AI, blockchain, Internet of Things (IoT), virtual reality (VR), and the ability to employ these technologies are the key elements on which countries' abilities to achieve growth, progress, and prosperity will depend," says Salim Al Ruzaiqi, CEO, Information Technology Authority, Sultanate of Oman.
The summit boasts an impressive line of speakers with the guest of honor, His Excellency Dr. Hamed Salim Al Rawahi, Chief Executive Officer of Telecommunication Regularity Authority (TRA), and opening keynote to be delivered by Eng. Badar Ali Al-Salehi, Director General, Oman National CERT.
Some of the other speakers include, Ali Hassan Moosa, CEO at Oman Banks Association; Nahla Juma Khamis Al Balushi, Head – Information Security at Central Bank of Oman; Fadi Nasser, General Manager, ICT Business and Senior Advisor to CEO at Omantel; Venu Sriraj, Chief Information Security Officer at UAE Exchange; and Dr. Paul Sant, Acting Head of the School of Computer Science and Technology at University of Bedfordshire, UK.
The summit is expected to host honorable guests representing the Sultanate of Oman, industry leaders, policy makers and influencers, technologists, as well as delegates from many countries.
The Oman Cybersec Summit 2018 is expected to discuss creating a resilient and cybersecure nation and to increase the pace of the fourth Industrial Revolution (an era where new technological breakthroughs will cause disruption in various industries and will be marked by robotics, artificial intelligence (AI), and blockchain, among others technologies). The summit is scheduled to take place in Muscat, Oman.
For more information on the summit, including registration and sponsorship details, please visit, https://ciso.eccouncil.org/portfolio/oman-cybersecurity-summit-2018/
About EC-Council:
EC-Council has been the world's leading information security certification body since the launch of their flagship program, Certified Ethical Hacker (CEH), which created the ethical hacking industry in 2002. Since the launch of CEH, EC-Council has added industry-leading programs to their portfolio to cover all aspects of information security including EC-Council Certified Security Analyst (ECSA), Computer Hacking Forensics Investigator (CHFI), Certified Chief Information Security Officer (CCISO), among others. EC-Council Foundation, the non-profit branch of EC-Council, created Global CyberLympics, the world's first global hacking competition. EC-Council Foundation also hosts a suite of conferences across the U.S. and around the world including Hacker Halted, Global CISO Forum, TakeDownCon, and CISO Summit.
For more information about EC-Council, please see http://www.eccouncil.org
Media Contact
Rakesh Acharya
+91 7977828905
---
Summary
Ec-council - Monday, October 29, 2018. Submitted by EC-Council. The Oman CyberSec Summit 2018, part of the GCC Cyber series, aims to bring high-level information security professionals under one roof to address new cybersecurity initiatives in Oman on 30th October 2018.
---