EC-Council and RSA Security Announce Partnership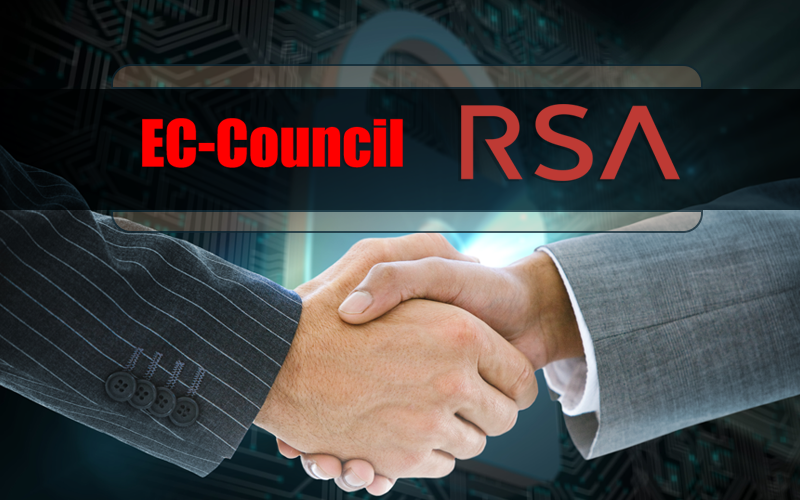 Nov 28, 2018 ( PR Submission Site ): EC-Council and RSA Security LLC ("RSA") have partnered to offer information security skills-based training to professionals globally. The deal was constructed to allow RSA to offer EC-Council courses to the RSA clients and partners to address the widening gap between the skills required by corporations to fend off cyber- attacks and the labor pool.
Companies of all sizes are struggling to hire qualified network defenders and threat intelligence analysts who are integral to staffing their SOCs and to keeping their infrastructure and data secure. EC-Council's line up of certification programs are tailored to prepare the kind of professional that corporations need to reduce risk and ensure both security and compliance.
RSA will be offering EC-Council training and certification programs including for example Certified Ethical Hacker (CEH), Computer Hacking Forensics Investigator (CHFI), Certified Network Defender (CND), EC-Council Certified Security Analyst (ECSA), EC-Council Certified Incident Handler (ECIH), Certified CISO (CCISO). Students will be able to choose from a variety of modes of learning including live online (virtual) and live in-person. Along with the programs themselves, and the opportunity to earn a new certification with each, is the cloud-based cyber range where students develop their tactical cybersecurity skills. This hands-on tool provides students with an opportunity to apply the program concepts to real world scenarios.
According to Lisa J. Zeena, Sr. Director, RSA University, "With the growing cybersecurity skills gap,companies (in both public and private sectors) looking to recruit personnel with the required expertise to protect sensitive company information are extremely challenged. The partnership between EC-Council and RSA helps address this challenge by offering the necessary skills-based training using state-of-the-art solutions to manage digital risk."
With the escalation in cyber threats globally, organizations now recognize that an investment in security is a must. Hundreds of thousands of cybersecurity positions are unfilled in the US alone due to a shortage of cybersecurity experts. The partnership between EC-Council and RSA addresses the need to provide the required training, skills, and experience to address the cybersecurity skills gap.
"In a digital world where everything is at risk of being compromised, it is critical that we produce world class cyber security talent to help curb the manifestation of "cyber insecurity" in large organizations. EC-Council's partnership with RSA is a testament to the collective commitment of both organizations to bring high quality "hands-on" cyber security training into the heart of global institutions. This exciting alignment of RSA and EC-Council cyber training will result in a scalable approach in creating world class cybersecurity teams with the hands-on skills and ability to perform their job duties from day one." Jay Bavisi, CEO, EC-Council Group and Chairman of the Board, EC-Council University
For more information on RSA University, the education services division of RSA and this partnership go to https://community.rsa.com/community/training
About EC-Council:
EC-Council has been the world's leading information security certification body since the launch of their flagship program, Certified Ethical Hacker (CEH), which created the ethical hacking industry in 2002. Since the launch of CEH, EC-Council has added industry-leading programs to their portfolio to cover all aspects of information security including EC-Council Certified Security Analyst (ECSA), Computer Hacking Forensics Investigator (CHFI), Certified Chief Information Security Officer (CCISO), among others. EC-Council Foundation, the non-profit branch of EC-Council, created Global CyberLympics, the world's first global hacking competition. EC-Council Foundation also hosts a suite of conferences across the U.S. and around the world including Hacker Halted, Global CISO Forum, TakeDownCon, and CISO Summit.
For more information about EC-Council, please see http://www.eccouncil.org.
---
Summary
EC-Council and RSA Security have teamed upto offer EC-Council certification and training programs to RSA Security's vast range of clients, partners and employees.
---