CoesterVMS and Wave City Care School Makeovers 2018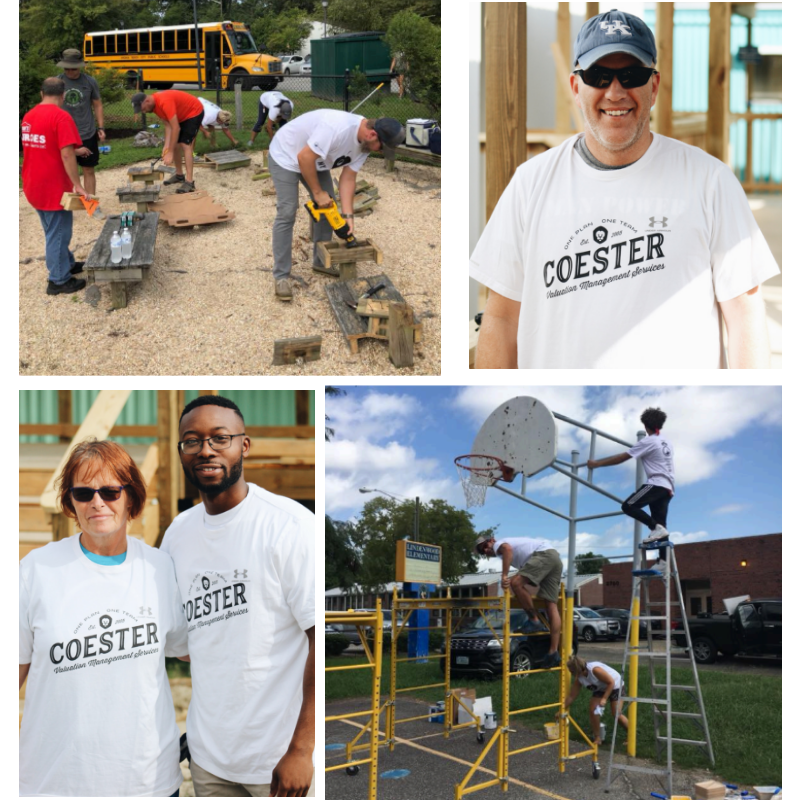 October 9, 2018 ( PR Submission Site ) Saturday, August 25th CoesterVMS and Wave City Care partnered up for the annual makeover of four local schools, just in time for the new school year!
Thoroughgood Elementary, Creeds Elementary, Lindenwood Elementary, and Truitt Internediate Chesapeak were among the four schools to received aid and assistance to ensure the buildings were ready for the 2018 school year.  The makeover included landscaping, construction, painting, installing chalkboards, power washing, cleaning, and assistance setting up the classrooms.
"The makeover was complete just in time for the new school year. Over five hundred people came out to make a huge impact on the lives of our youth and the community. It was a really fun day where the community comes together to get their hands dirty and beautify four of our local schools," said Lydia Wigglesworth-Ballard of Wave City Care.
This year's makeover marked the 13th year of the event for Wave City Care. Wave City Care is a non-profit that serves the community through educational services, mentor-ship opportunities, and local community volunteer work. For a breakdown of this year's School Makeover event, the details have been provided below.
Thoroughgood Elementary – Virginia Beach
– Landscaping; filled 90 pots with potting soil and plants
– Construction
– Painted 45 classroom doors and accent walls in 40 portables
– Installed chalkboards in 25 portables
– Assist teachers with classroom setup
Creeds Elementary – Virginia Beach
– Cleaned tile walls and door knobs
– Landscape, mulching grounds
– Power washing
Lindenwood Elementary – Norfolk
– Landscaped; cleaned flowerbeds and mulched front of building
– Lay timbers and rubber mulch for playground
– Painted cabinets, marquee, and blackboard poles
– Designed and painted a mural
– Construction; assembled picnic tables
Truitt Intermediate Chesapeake
– Landscaped gardens in front of building
– Painted mural & walls in teachers' lounge
– Construction; built of storage sheds
– Power wash
– Decorated bulletin board and teachers' lounge
CoesterVMS is a nationwide appraisal management company that specializes in providing comprehensive management of appraisal operations for mortgage lenders. CoesterVMS' in-house appraisal management solution combines the best service with the most advanced technology on the market. CoesterVMS guarantees all appraisal reports to fully comply with all regulations and guidelines.
The company's Cloud Control appraisal management technology is the only software of its kind to be built on the award-winning Salesforce.com platform, and its "Coester-Mer" service is earning the company a reputation for the best customer service in the industry. Headquartered in Rockville, Maryland, CoesterVMS was founded as a local appraisal company and has since grown to a formidable nationwide force in the appraisal management segment.
Brian Coester is the Chief Executive Officer of CoesterVMS. He is an Entrepreneur and very keen to play his part in the betterment of the society.
"It is not the first time Coesters took part in this kind of activity and certainly not the last time. I and my company will continue serving our country." said by the Brian Coester.
---
Summary
CoesterVMS and Wave City Care partnered up for the annual makeover of four local schools, just in time for the new school year!
Source
http://coestervms.net/coestervms-wave-city-care-school-makeovers-2018/
---