Civil Activists from London, Hong Kong To Convene on Jerusalem For Inaugural 'Summit of the Three'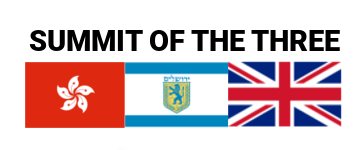 February 28,2019 ( PR Submission Site ) Delegates from Hong Kong and London are set to arrive in Jerusalem next month for what organizers are describing as a 'first of its kind' international municipal summit dedicated to finding common ground and solutions for the three cities.
The Summit of the Three will see civil activists take place in a four day working group forum dedicated to exploring mutual challenges and opportunities facing the three international hubs.
According to Summit organizers, delegates are also expected to participate in a wide-ranging tour of Jerusalem, including holding sidelines meetings with local activists and business leaders.
The initiative is being spearheaded by the Alma Innovation Center, an invitation-only irregularly convening international trade and dialogue forum dedicated to discussing multilateral challenges facing the Far East and Asia.
Its spokesperson emphasized that the delegates, private high-ranking business-people with an interest in urban development, are arriving in a personal capacity and are not attending the Summit on behalf of their respective governments – neither that of the United Kingdom nor the Hong Kong Special Administrative Region (SAR).
A small trade delegation from Hong Kong is expected to join the Summit attendee, pending receipt of the requisite visa approvals.
Yaakov Greenspan, a spokesperson for the Summit of the Three, said that the Forum will pave the way for future dialogue surrounding issues facing the three cities:
"Jerusalem is the inaugural rotating host, but we expect to convene on Hong Kong and London in successive years."
"These three cities face common challenges related to their position as major global cities at the crossroads between the US, Europe, and the Far East."
"But all three cities must also confront the modern challenges that come from being international cities of global repute – namely dealing with disparate ethnic groups and populations, confronting security threats, and retaining unique identities for their respective populations."
We hope to fully explore these issues with the delegates next month."
For more details, visit SummitOfTheThree.World
---
Summary
A non-governmental civic participation forum is taking place in Jerusalem next month involving delegates form Hong Kong and London
---