CEH, now in German – EC-Council removes Language Barrier in Cybersecurity Credentialing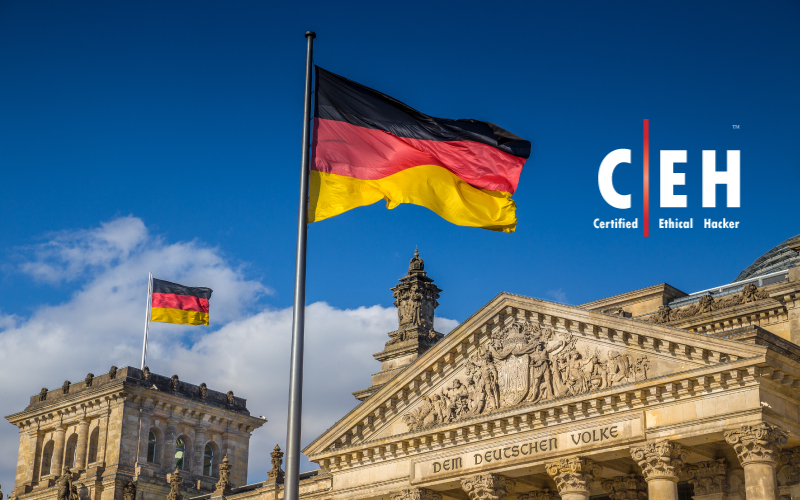 (prsubmissionsite) October 25, 2019 – Over 220,000 cybersecurity professionals have been trained in EC-Council programs since we embarked on our mission to help improve the global levels of cybersecurity talent. Starting this month, thousands more will get trained in the newly launched German version of the globally recognized Certified Ethical Hacker (C|EH) Exam.
"Ethical hacking is a fundamental requirement of every organization or government entity. With the exam now in German, residents of German-speaking nations will have the opportunity to prove to employers around the world that they have what it takes to become a Certified Ethical Hacker" – Philip Blake, European Director of EC-Council.
Germany, one of the world's strongest economies and leading member of the European Union, has been badly hit in recent years by cyber attacks. It is estimated that cybercrimes have cost German manufacturers some €43 billion. SME's, which are the backbone of Germany's economy, are the most vulnerable to threats as reported by German IT industry body Bitcom. In response to cybercrime, the German government has started ramping up its offensive capabilities in cybersecurity to thwart such attacks. Entities such as the Federal Office of Information Technology Security (BSI), The National Center for Cyber Defense, Federal Office of Civil Protection and Disaster Assistance have been formed to strengthen and raise the cybersecurity standards of the nation.
Getting through EC-Council's C|EH program means that candidates would have mastered skills in an accredited ethical hacking methodology that is widely used by industry professionals in most demanding penetration testing or ethical hacking scenarios.
This new German version joins EC-Council's other released Japanese version that was an instant hit in Japan. The firm plans to roll out more language versions of its portfolio programs shortly to embrace an even wider community. Jens Gilges, one of EC-Council's German CEI's, endorsed this new exam 'I had the chance to test the German version of the Certified Ethical Hacker exam. Being around IT Certification tests for now almost 20 years, I was always afraid to take the exam in languages other than English because of bad translation. The German CEH exam was very well translated and very nice to read. The questions were very straight and clear. I would recommend this test to anybody who wants to take a German exam and enhance their IT Security career.'
About EC-Council:
EC-Council has been the world's leading information security certification body since the launch of its flagship program, Certified Ethical Hacker (C|EH), which created the ethical hacking industry in 2002. Since the launch of C|EH, EC-Council has added industry-leading programs to their portfolio to cover all aspects of information security including EC-Council Certified Security Analyst (ECSA), Computer Hacking Forensics Investigator (C|HFI), Certified Chief Information Security Officer (C|CISO), among others.
EC-Council Foundation, the non-profit branch of EC-Council, created Global CyberLympics, the world's first global hacking competition. EC-Council Foundation also hosts a suite of conferences across the US and around the world, including Hacker Halted, Global CISO Forum, TakeDownCon, and CISO Summit.
To learn more about EC-Council, visit https://www.eccouncil.org/
---
Summary
Starting this month, thousands more will get trained in the newly launched German version of the globally recognized Certified Ethical Hacker (C|EH) Exam.
Source
https://blog.eccouncil.org/ceh-now-in-german-ec-council-removes-language-barrier-in-cybersecurity-credentialing/
---