Campus Solution Chosen by Industry Experts in Pitch Competition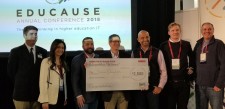 Denver-based student portal and mobile-app company find industry recognition for helping colleges and universities connect people, information and systems.
DENVER, ( PR Submission Site ) November 29, 2018: Campus was chosen as 'Runner Up' during the "Under the Ed Radar Pitch Competition," held during EDUCAUSE 2018. AWS was the sponsor of Start-Up Alley, where 47 emerging EdTech companies exhibited solutions involving machine learning, artificial intelligence, and data analytics. Of those, eight startups were selected to compete in the Pitch Competition.
Each presenting company delivered a six-minute pitch to judges from AWS, Tom Andriola (University of California Chief Information Officer), and last year's winner (Sabina Saksena, Founder and CEO of Cytilife) and Runner-Up (Chris LaConte, Chief Strategy Officer at SpyCloud).
The pitch was evaluated based on a 6-part rubric, including:
1. Clear definition of an unmet higher education customer need (a key issue needing to be solved), combined with how the proposed solution benefits the industry.
2. Demonstrated knowledge of appropriate colleges or universities and how the solution will uniquely serve them.
3. The actions/solution so as to resolve the problem/meet the need.
4. How is the proposed solution different from others in the market today? What is the solution's unique value proposition for schools, illustrating the company's advantage?
5. What is the market opportunity and impact to be made? Similarly, can the solution scale to meet demand?
6. Description of the team, which actually drives execution. What experience and differentiated value does the team have? How flexible can the company be?
First place went to Sense Education, an artificial intelligence grading solution for Computer Science courses. Campus was honored to be chosen as Runner-Up, illustrating the power of connection and efficiency.
"This was so affirming," said Dr. Jeff D. Borden, Chief Academic Officer of Campus, and Pitch presenter. "Hearing one judge say they wanted us to win really supports our belief that connecting students, faculty, and staff to the right people, information and systems at the right time is crucial to student success and institutional effectiveness. Hats off to the 'in vogue' AI solution, but this win really helps us maintain focus on the mission of the company. As our vision statement states, 'Our partners don't have students who can't succeed.'"
Campus was awarded two ads in the EDUCAUSE Review, access to an EDUCAUSE event in 2019, and is excited to be coming back as a Graduate Start-Up Company at the Annual EDUCAUSE Conference in Chicago, IL, next year.
While looking forward to next year's conference, Campus also looks forward to sharing our award-winning solution with all of Higher Education.
About Campus:
Campus is a product of Ucroo Incorporated. Campus is a modern student portal and mobile app (a "digital campus") that better connects people, information and systems across the student lifecycle – helping universities and colleges improve student recruitment, experience, success and fundraising.
For more information, visit: https://campus.app