Calsoft Co-hosts the T/E/N Storage Meetup with SNIA India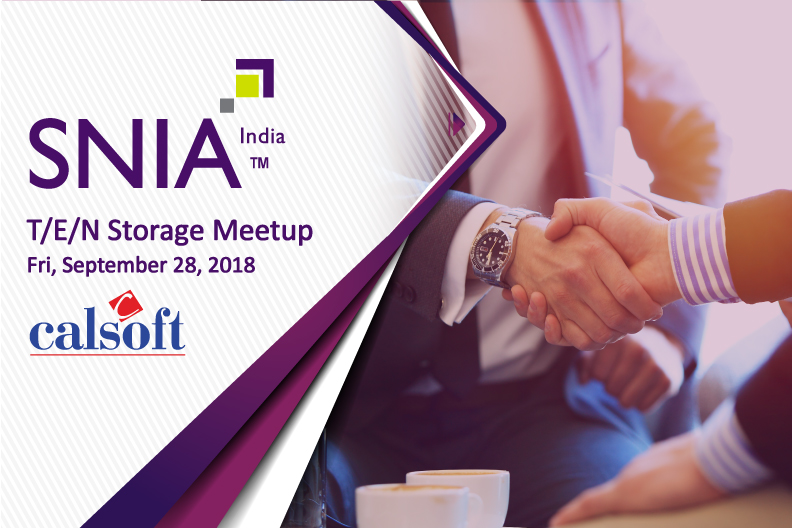 Pune, India ( PR Submission Site ) October 12, 2018 – Calsoft, an ISV preferred product engineering services partner in Storage, Networking, Virtualization, Cloud, IoT and analytics domains hosted a meetup in collaboration with SNIA as part of SNIA T/E/N Storage Meetup Series. The meetup was held at Calsoft Pune office on 28th of September 2018 and witnessed huge participation from Storage delegates who networked and shared experiences amongst themselves across the span of 5 hours.
SNIA India conducts such Meet Ups for increasing awareness on Storage Technology in India on a regular basis.
Dr. Anupam Bhide, Founder and CEO – Calsoft, inducted the meetup and shared his views and insights on the latest trends in the Datacenter domain.  Anupam mentioned, "Storage industry has been around for two decades now. With the biggest driving factor being 'Flash and SSDs' from a business point of view, the industry has also seen huge funding from VCs. The pivotal point ahead of us is the upsurge in VC funding for Storage start-ups and small SMEs that are doing innovative work in Persistent Memory Storage, NVMe Public and private cloud and more." Anupam further added, "There are ample companies that are building chips for Machine learning, doi&D around IIoT and AI, and this definitely will present opportunities to weave Storage with new-age technologies like IoT, Machine Learning and more."
Nitin Singhvi, a leader in Networking and Cloud technologies, delivered the keynote on Storage and Data Management Trends. Nitin has led engineering teams to deliver excellence through length and breadth of networking domain. His keynote covered Storage under Active management, Data Growth rate, Driving IT Infrastructure Change, Cloud Storage Services, and the opportunities that 2019 will present in Datacentre technology.
Mr. Sandeep R. Patil, Storage Architect, IBM Systems Labs and Technical Council Member at SNIA, talked about Storage Security best practices diving deep through Security, major threats and challenges, risk & remediation, prevailing Storage Security guidance, and Storage Security standardization.
The meetup presented all the attendees an opportunity to network with industry veterans during the open-networking session that also concluded the educational event.
About Calsoft:
Calsoft is ISV preferred product engineering services partner in Storage, Networking, Virtualization, Cloud, IoT and analytics domains. Our solution accelerators and frameworks augment go-to-market plans and expedite product launches to meet customer business goals. With the US headquarters in San Jose and India headquarters in Pune, Calsoft also has presence in Bangalore.
About SNIA – India: SNIA India is an independent Regional chapter of SNIA US and is committed to growing awareness for Storage technologies world wide and also provide standards for interoperability. SNIA – India conducts SDC ( Storage Developers Conference ) every year at Bangalore during the month of May which is attended by over 250 actual developers in Storage Industry.
---
Summary
The meetup was held at Calsoft Pune office on 28th of September 2018
Source
https://calsoftinc.com/resources/press-releases/calsoft-co-hosts-the-ten-storage-meetup-with-snia-india/
---