Bioxytran Files Registration Statement With SEC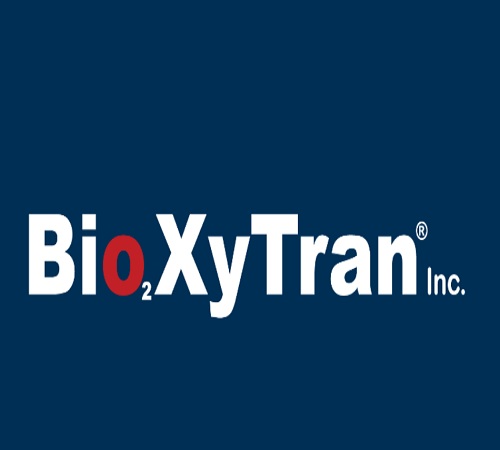 Boston, MA.  April 22, 2019 ( PR Submission Site )  – Bioxytran, Inc. (BIXT) announced that it has filed a registration statement on Form S-1 with the U.S. Securities and Exchange Commission relating to a proposed offering of shares of its common stock. The number of shares to be offered and the price range for the proposed offering have not yet been determined. Bioxytran, Inc. has currently traded under the ticker symbol "BIXT."
Bioxytran will manage the offering, however, reserves the right to utilize a placement agent or underwriter once the SEC has approved the registration statement.
The offering will be made only by means of a prospectus. Copies of the preliminary prospectus relating to this offering, when available, may be obtained directly from the company by telephone or by email to Bioxytran at info@bioxytraninc.com.
A registration statement relating to these securities has been filed with the Securities and Exchange Commission but has not yet become effective. These securities may not be sold nor be offered to buy or be accepted prior to the time the registration statement becomes effective.
This press release shall not constitute an offer to sell or the solicitation of an offer to buy these securities, nor shall there be any sale of these securities in any state or jurisdiction in which such offer, solicitation or sale would be unlawful prior to registration or qualification under the securities laws of any such state or jurisdiction.
About Bioxytran, Inc.
Based in Newton, MA, Bioxytran Inc. is a developmental stage biopharmaceutical company developing anti-necrosis drugs that treat hypoxia. Hypoxia is a condition resulting in an insufficient supply of oxygen to bodily tissues, can cause a variety of severe, harmful medical conditions including cancer growth and cell death.
The company is focusing on the development and commercialization of first-in-class treatments to prevent brain damage resulting from hypoxic conditions following brain stroke and trauma. The Company's lead product candidate, BXT-25, is an anti-necrosis drug that carries oxygen to tissues when the flow of blood is blocked. It will be tested as a potent resuscitative agent to treat ischemic brain strokes, caused by severely reduced blood flow to the brain. In addition, the company plan to test another drug candidate, BXT-252, as a resuscitative agent in a variety of wound-healing applications, as well as in organ transplantation and cancer contexts.
Contact: David Platt, CEO of Bioxytran, Inc.
Phone: (617) 494-1199
Email: info@bioxytraninc.com
---
Summary
Bioxytran, Inc. (BIXT) announced that it has filed a registration statement on Form S-1 with the U.S. Securities and Exchange Commission relating to a proposed offering of shares of its common stock.
Source
http://www.bioxytraninc.com/
---