BIOAYURVEDA Broadens Ayurvedic Supplement Range With Memory Health Supplements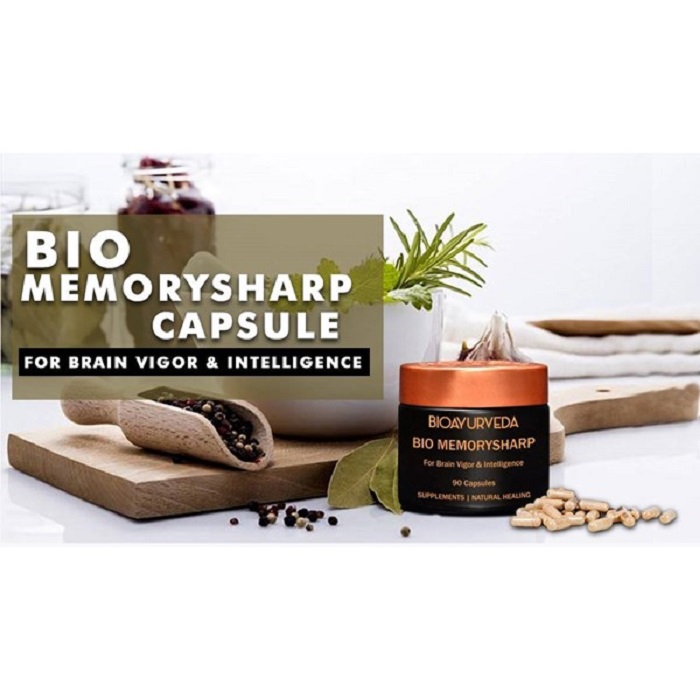 (prsubmissionsite) April 1, 2020 :  BIOAYURVEDA has launched Bio Memorysharp Capsule to improve the learning and cognition of the people, who are struggling to channelize their mental health. BIOAYURVEDA has been a renowned brand for premium organic beauty and health products. This brand endeavors to provide a range of organic beauty care products and health supplements, nurtured with the Ayurveda values and herbs. BIOAYURVEDA follows a holistic approach of Ayurved products to provide physical and mental health and lets the world know about the treasure of nature. 
"We reached a milestone and strived to bring an organic formula for mental health from the treasure troves of Ayurveda. Bio Memorysharp Capsule has been prepared with ancient herbs, nutrients and natural oils as per the context of Ayurveda. We ensure the authenticity of the product as structured under the guidelines of global certifications." CEO announced.
Stress, anxiety, lack of concentration, weak memory are the common issues, people are suffering. Unmada concept from Ayurveda text mentions that improper use of intellect may result in impaired judgment, lack of attention and concentration, behavioral adjustment etc. Ayurveda offers its solution through Medhya Rasayan remedies. This concept includes the collection of medicinal herbs which helps to improve the condition. BIOAYURVEDA followed this concept and used the remedies as ingredients in the production of Bio Memorysharp Capsule.
CEO also added "Medhya Rasayana remedies have been effectual collection of herbs to empower the memory, concentration, learning and cognitive. We adopted this herb collection to develop Bio Memorysharp Capsule."
Ashwagandha, Brahmi, Tagara, Jatamansi, Malakangni, Madhukaparni, Shankhpushpi, Shatavari, Tulsi, Vacha and Giloy are the effective herbs, used as key ingredients in this mental health supplement. This formulation has been found as a great solution to treat mental disorders because of its satisfactory execution for the human body. Here, the benefits of these ingredients are below mentioned:
Shankhpushpi – This herbal extract used in BIO Memorysharp Capsule is effective for mental strength. It rejuvenates the mental health and improves memory, concentration level and focus. It is much effective to relieve the stress and anxiety.
Brahmi – Referred as tonic for the brain, this herb soothes the nerves and boosts memory. It prevents the brain from oxidative and neurotoxic damage. It responses well to boost cognitive ability and mental clarity.
Malakangni – This natural extract executes in a human body as a memory enhancer and has been one of the powerful brain tonics. It helps to improve the concentration, focus, and cognitive functions.
Shatavari – This herb extract stabilizes the endocrine system, nourishes the brain and soothes the nervous system.
Madhukaparni – This organic herb stimulates the neuro-muscular system and reduces nervous tension, insomnia, anxiety, and stress. This vigorous ingredient of BIOAYURVEDA memory health supplements helps to improve concentration level and focus.
Tagara or Valerian – It is also known for its effectiveness to soothe the nervous system and calms the mind. It has been a good source to support restful sleep and reduce stress, anxiety, exhaustion etc.
Jatamansi – This herb is potent to boost the learning ability and memory. It is enriched with nerve-calming properties hence also known as the natural anti-depressant.  It decreases anxiety, hostility, and hyperactivity.
Ashwagandha – It relieves stress, anxiety, calms down the nervous system and enhances mental performance.
The benefits of all herbs used in BIOAYURVEDA Bio Memorysharp Capsule have been incorporated with nutrient and essential oils, providing the optimum results to heal the mental disorder. It is an ideal solution to manage the disorders related to the brain and nervous system. This way, our consumers can help to attain health, peace and happiness, who are suffering from anxiety issues. 
---
Summary
Maintaining a healthy brain is required to live an active life while interacting with the world around us. It's only possible when people pay attention and seek assistance to improve their mental health. Take one more step to find this product, available at the online Ayurvedic shop as well as offline stores. Herbal product online shopping can be the most convenient way to get the memory health supplements. Moreover, a healthy brain is a sign of the overall health fitness. If you're missing it then you will not be even able to make decisions in daily life. Keep your brain young with Bio Memorysharp Capsules from BIOAYURVEDA's memory health supplements range.
---