Barsoum Dental Announces 2nd Annual Holiday Toy Drive: Donations to Victims of Domestic Violence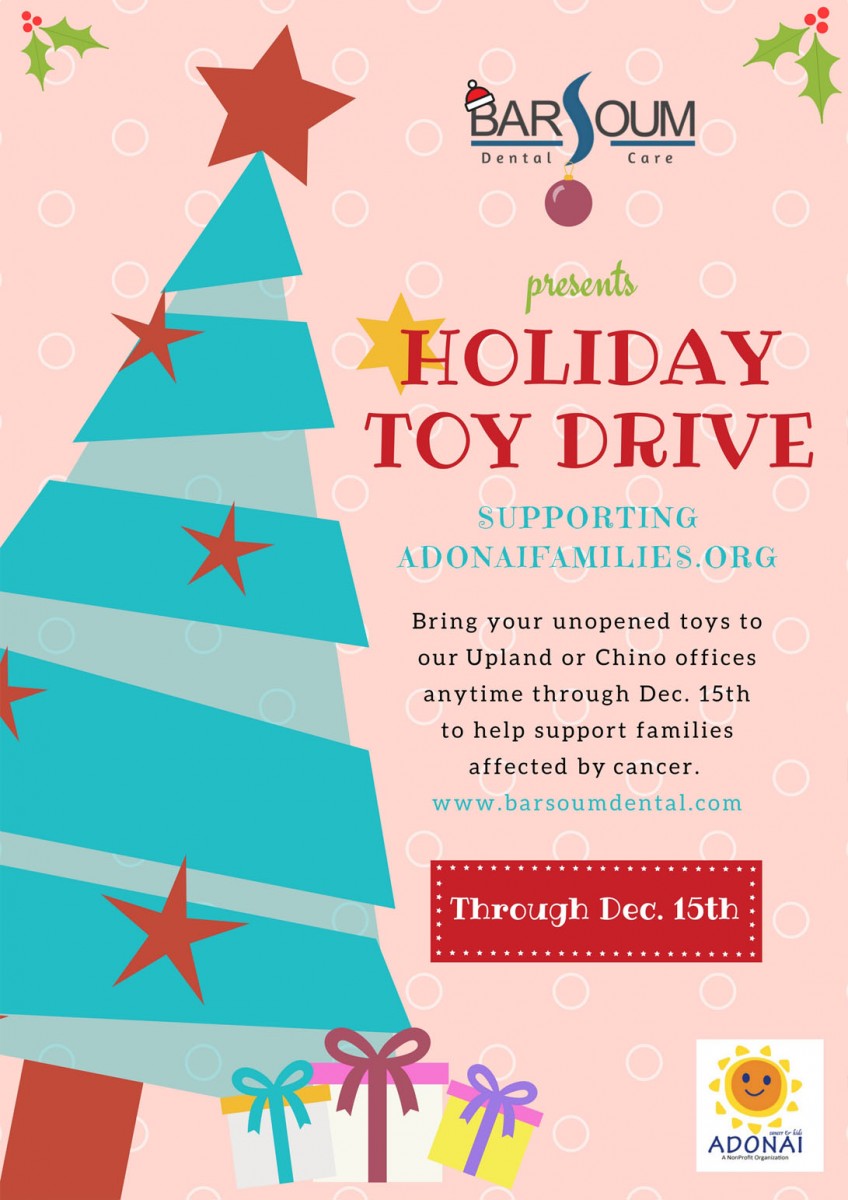 Dental care provider with offices in Chino & Upland, CA partner with House of Ruth to provide toys to families affected by domestic violence
Chino, CA ( PR Submission Site ) November 14, 2018:– Barsoum Dental Care, a general and specialty dentistry provider with offices in Upland and Chino, CA announced today the focus of its second annual 'Holiday Toy Drive'. All donations from this year's event will go to Pomona-based House of Ruth (houseofruthinc.org) – an organization dedicated to providing life-saving services to families victimized by domestic violence.
"Domestic violence is an all-too-common and very serious public health problem with devastating consequences for families. Often these victims are children who can suffer severe physical, emotional and mental health issues for the rest of their lives," said Dr. Maher Barsoum, lead practitioner and founder of Barsoum Dental Care. "We're thrilled to have the opportunity to team up with our staff and patients to provide some support to these families during the holidays through the toy drive." This will be the 2nd annual Holiday Toy Drive for the organization and is expected to continue to be held annually. Last year's event raised dozens of toys for non-profit Adonai Families (adonaifamilies.org), an organization committed to serving families coping with a child with cancer or other serious illness.
According to event organizer and staff member at the Upland office Chaz Macias: "The number of toys we were able to collect last year was amazing and we wanted to maintain that momentum going into this year. Keeping with the theme of helping children and families in need, we felt that the House of Ruth was the right choice to receive this year's donations because they do such great work to provide essential, life-saving services to families in crisis free of charge.
Understandably, parents in these horrific situations often don't have the time or the resources to get out and shop for the holidays. We wanted to do what we could to ease that burden a little and bring some holiday cheer." Patients and staff at both locations, as well as the general public, are encouraged to bring new, unwrapped toys to during normal business hours between November 15th and December 15th, 2018. Toys should be non-violent in nature (no guns, knives, swords etc.) and will be given to House of Ruth shortly after the conclusion of the event.
About Barsoum Dental Care
Barsoum Dental Care is a highly-reviewed family, cosmetic and specialty dental provider with offices in Chino and Upland, CA. With a large team of in-house professionals including general dentists and specialists, Barsoum Dental has been serving patients of the Chino, Chino Hills, Upland and surrounding communities for nearly three decades.
Press Contact Chazlyn Macias
Community Outreach Manager
(909) 920-5222
Barsoum Dental Chino
14613 Ramona Ave Chino, CA 91710 (909) 902-1708
Barsoum Dental Upland 258 E. 9th St Upland,
CA 91786 (909) 920-5222
---
Summary
Dental care provider with offices in Chino & Upland, CA partner with House of Ruth to provide toys to families affected by domestic violence
---