Grovy Real Estate Announces The Launch Of Its Latest Project – Aura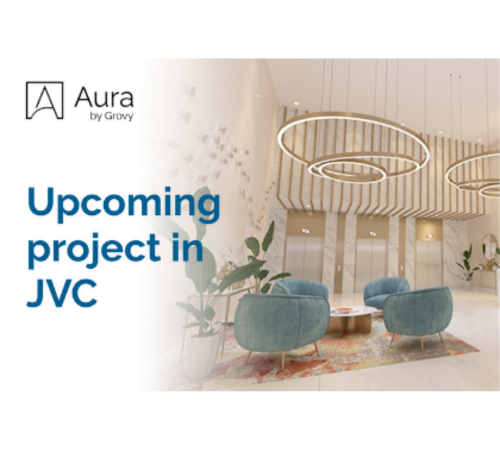 May 26, 2023 ( PR Submission Site ) –
Grovy Real Estate Development LLC, the leading real estate developer in Dubai focused on luxury and high-end projects in the Middle East has announced the launch of its new project – Aura by Grovy. Located in the coveted Jumeirah Village Circle (JVC), the residential complex will house studios and apartments ranging from one to three bedrooms. Due to be ready by quarter 2 of 2024, Aura by Grovy will be a central hub for facilities and entertainment, including a temperature-controlled swimming pool, jogging track, multi-sport court, fully equipped gym, steam and sauna, 24/7 security surveillance, children's play area, smart home automation, co-working lounge, spa, communal gardens, electronic vehicle charging station, access-controlled entry points and more.
Dubai is one of the greatest cities in the world, loved for its street life, nightlife, and finer things in life, made with equal part tradition and remarkable innovation. This new development will offer residents and international investors a perfect balance between serenity and fast-paced urban living. A report by real estate investment and advisory firm JLL states that the UAE construction projects' market rebounded during 2021, with the residential sector being the highest performer within construction asset awards. With the trend expected to continue through 2022, the market is witnessing several successful residential project launches.
The sentiment has been further bolstered by the UAE government's new visa legislation that allows property investors to get a Golden Visa when they buy a property worth Dhs2 Million. In addition, Dubai ranked fourth in the Savills Prime Residential Index: World Cities in August 2022. The only non-US city to make it to the top five, Dubai recorded strong performance on prime residential capital values as well as rents. Prime prices grew by 4.7 percent during the first half of the year and the city is expected to witness strong capital growth continue for the remainder of 2022. Aura by Grovy will be a great opportunity for international investors looking to invest in the country.
Dubai is known for its high rental yields, world-class infrastructure, and safe and stable landscape, and also offers vast professional opportunities. Investing in this project will be one step close to accessing the best of the world under one roof. Aura will be connected to the most prominent locations in Dubai including Dubai International Airport, Burj Khalifa, Palm Jumeirah, Kite Beach, and several other important destinations at a distance of 5 to 15 minutes.
Premium Class Apartments In JCV Dubai
Arriving at your home in Aura is an experience equal to entering the most exclusive hotels. Open-plan living spaces let you create a space that best suits your furnishing needs. Spacious Bedrooms are thoughtfully planned to create a beautiful haven for rest. The Ensuite and Guest Bathrooms are all fitted and finished to the highest standard.
---
Summary
Due to be ready by quarter 2 of 2024 with, 3 covered parking podiums and 15 floors in the heart of the upcoming Jumeirah Village Circle, Dubai.
Source
https://gulfbusiness.com/special-report-how-uaes-construction-sector-is-back-to-business/
---