APA's "Bad Seed" Runs From November 8-10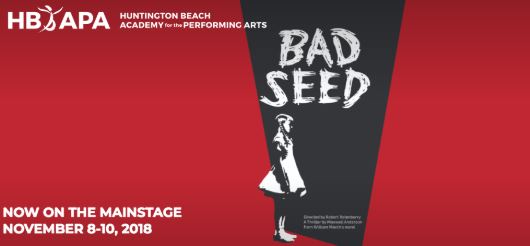 Huntington Beach, Calif. ( PR Submission Site ) October 6, 2018 – The Academy for the Performing Arts' (APA) Acting Department presents "Bad Seed" from November 8 and 9 at 7:30 p.m., and November 10 at 2:30 and 7:30 p.m. in the Historic Huntington Beach Union High School District Auditorium and Bell Tower. Tickets are $22 for adults, $16 for students and seniors, and are available online at http://www.hbapa.org/see
APA's Acting Department presents its first mainstage show of the year with "Bad Seed," the story of a sinister child, Rhoda, and the disturbing evil reality behind her well-mannered facade. The tale will be told in a chilling blend of stark stage décor and monochromatic costuming by APA's Technical Theatre and Costume Design departments.
"APA Theatre presents a play unlike anything we have ever done," says Robert Rotenberry, the production's director and APA Acting Department chair. "'Bad Seed' was shocking in the 1950's and it will still surprise audiences today."
Psychological-thriller fans will not want to miss APA's production of this Tony Award-winning hit.
---
Summary
The Academy for the Performing Arts, a magnet program for the Huntington Beach Union High School District, presents its Acting Departments first show of the year: "Bad Seed."
---