Author Abhishek Kapoor's Debut Book The Selfish Betrayals Enters Second Print Run!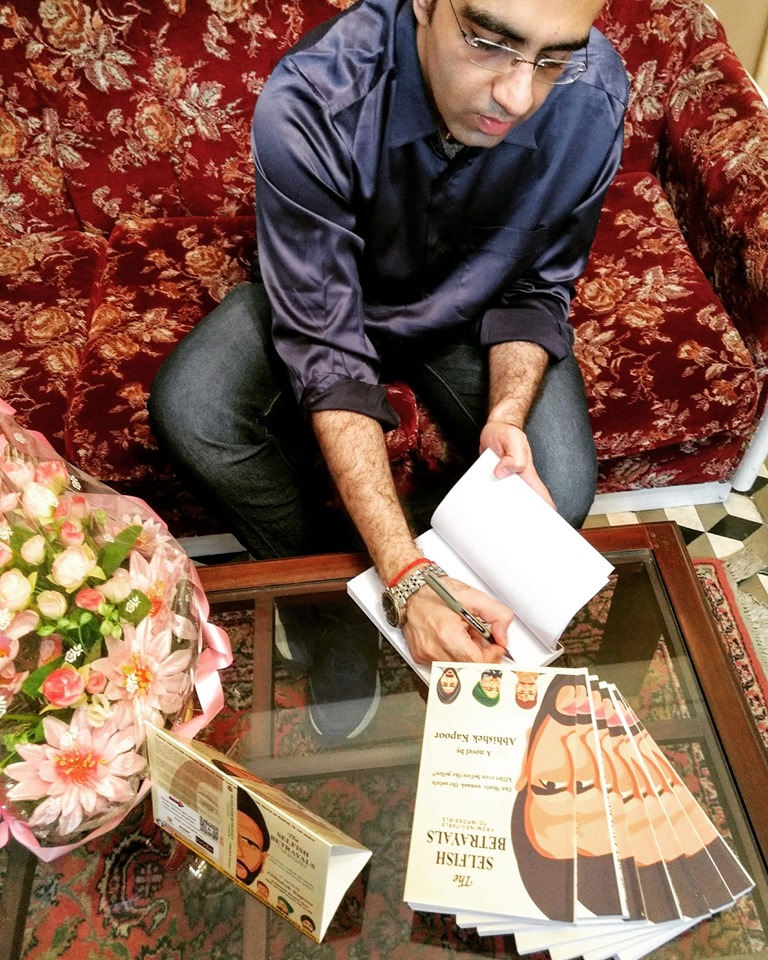 16 September 2019 ( PR Submission Site ) – Abhishek Kapoor is the author of the bestselling English fiction thriller novel The Selfish Betrayals. After an unanticipated number of sales, the engineer turned entrepreneur's debut book has entered its second print run.
At 31, Abhishek first launched The Selfish Betrayals on May 19, 2019 in Kanpur. It is available at all the leading online and offline stores. It has been well accepted by the readers across the globe and has highly positive reviews from almost everyone who has reviewed it online or offline.
Even Google acknowledged the high volume of global searches related to this book and dedicated a knowledge panel to Abhishek Kapoor, making him the first ever self published author in the 21st century to have achieved this feat within three months of his debut book launch.
He has dedicated this book to his two little ones who were lost due to miscarriages, thereby becoming the first individual ever with such a dedication.
"I was writing a script for a film when my sister came up with a brilliant story. Inspired by her content, I edited mine and the result was a three page script. In August 2019, I suffered personal loss and that is when I realized that people, money, time, fame etc. will always come and go but what remains forever is a book well written. Also, I was inspired by a portion of Modi ji's speech where he mentioned that Bollywood films help spread Indian culture to the world. Therefore, I tried my best to depict the lifestyle, social divide and the culture of Kanpur through my book," said Abhishek Kapoor.
Blurb:
The theme of the book is betrayals and through the story it is revealed how different people betray even their closest ones for money, love, hatred and helplessness.There is also an important message that can be disclosed only after reading the book. The novel also contains a focus on the culture, lifestyle and the wide social divide that exists among the people of Kanpur. It is a story of an egocentric and personable man with an unforgettable history. When destiny presented a sudden unanticipated chance, he decided to investigate the mysterious murder of a lonely glamorous girl, with minimal aid from his apprentice. What followed the crime scene investigation was a series of confrontation with perhaps the cleverest accused people, strange events and confusing outcomes. Did he succeed even before the police and media could break the news to the innocent citizens of Kanpur?
About the author:
Born in Kanpur, Abhishek Kapoor has worked in the field of IT with a couple of giants in the sector but then turned to entrepreneurship. He has also worked in the fields of technical training and initiated online public awareness campaigns. He has also written and directed some short films.
Links:
https://amzn.to/2kmfHG8
https://bit.ly/2MzzkHd
https://bit.ly/2kgBa31
https://bit.ly/2lTxxRi
https://g.co/kgs/E756Nn
---
Summary
The debut book of Abhishek Kapoor, The Selfish Betrayals has entered second print run after unanticipated sales and reviews online and offline. The author is also the first one ever in this century to recieve a knowledge panel on Google within three months of the launch of his first book.
Source
Amazon, Goodreads, Bhakti Prakashan, Abhishek Kapoor, Flipkart and Google
---