A Journey Filled with Adventure and Self-Discovery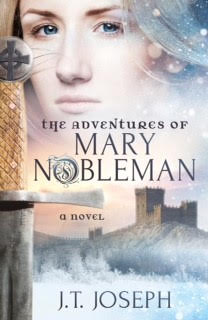 New York ( PR Submission Site ) November 5, 2018 — Morgan James's new release, The Adventures of Mary Nobleman: A Novel by J.T. Joseph, is about a young girl in 2020 who discovers she is a descendant of the legendary King Arthur possessing special magical powers and embarks on a journey of adventure and self-discovery with her friends.
In the year 2020, Mary Nobleman is an average thirteen-year-old girl until one night she falls through the floor of her house and discovers a secret room in her family's basement that is filled with artifacts. In the room, she discovers a journal, the famous Excalibur, and an Egyptian Amulet. She also finds a hidden tunnel leading to a river. Mary travels with her friend Julie and a Celtic fairy in a submarine to Wales, which used to be called Camelot. While Mary is on her journey she learns that she is a descendant of the legendary King Arthur from a secret second marriage and discovers some unique powers as well.
In Camelot, she and her friends fight evil creatures and become imprisoned by a secret coven on top of a mountain. Can Mary defeat those seeking revenge on Arthur's bloodline? What truths do the rare relics hold? The Adventures of Mary Nobleman is a story about friendships, family secrets, and adventures. It encourages readers to think outside the box as they join Mary on her journey of self-discovery.
The Adventures of Mary Nobleman taps into the timeless fascination with Arthurian legend. It features themes of friendships, learning about family secrets, adventures, and self-discovery. Riveting and fascinating, The Adventures of Mary Nobleman tells a unique type of story that blends Fantasy and Science Fiction elements that many readers enjoy.
If you would like more information about this topic, or to schedule an interview with J.T. Joseph, please call Nickcole Watkins at 516.900.5674.
About the Author:
J.T. Joseph has been writing since he was a high school sophomore. He graduated from the University of North Texas with an English degree with a concentration in Creative Writing. J.T. currently lives in the Dallas, Texas area.
More About This Title:
The Adventures of Mary Nobleman: A Novel by J.T. Joseph, will be released by Morgan James Publishing on November 13, 2018. The Adventures of Mary Nobleman—ISBN 978-1683509486—has 200 pages and is being sold as a trade paperback for $16.95.
About Morgan James Publishing:
Morgan James publishes trade quality titles designed to educate, encourage, inspire, or entertain readers with current, consistent, relevant topics that are available everywhere books are sold.
MEDIA CONTACT:
Nickcole Watkins
Morgan James Publishing
516.900.5674
Nickcole@morganjamespublishing.com
---
Summary
Press Release for my young adult novel. The paperback will be released on November 13. The e-book is currently available on Kindle, kobo, nook, and google play.
Source
Morgan James Publishing
---