7th Global Festival of Journalism Propagated Positive Journalism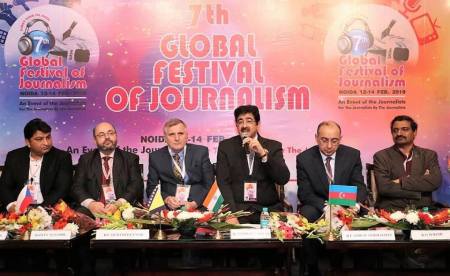 Noida, February 19,2019 ( PR Submission Site ) The first ever festivals of Journalism of Asia and second in the World created a wonderful opportunity for journalists from all over India and abroad a powerful cultural exchange.
International Journalism Centre and International Chamber of Media And Entertainment Industry in association with AAFT- Asian Academy of Film And Television jointly presented the 7th edition of Global Festival of Journalism Noida 2019 at Marwah Studios at Noida Film City.
"It was exactly eight years back we announced 12th February as the International Day of Journalism under International Journalism Centre. To Mark respect to our own decision we started first ever festival of journalism on the fixed dates of 12th, 13th and 14th of February. We feel elevated now, when hundreds of organizations all over the World have started celebrating this particular day," said Sandeep Marwah President of the festival.
"We are amazed to see the   quality and quantity of the program. Never ever attended a festival of journalism before though I have in journalism for many years     before joining Foreign Service," said H.E. Muhamed Cengic Ambassador of Bosnia and Herzegovina.
"I am thrilled to carry from here a scholarship of AAFT for the student from Azerbaijan, the festival has won the heart of Azerbaijan," added H.E. Ashraf Shikhaliyev Ambassador of Azerbaijan to India while receiving the scholarship from Marwah.
"The participation of Czech Republic in Global Festival of Journalism has enhanced our relationship with India. Indo Czech Cultural Forum is doing well and creating awareness about our activities al over India and abroad," said Roman Masarik Deputy Head of the Mission Embassy of Czech Republic.
The cultural diplomacy is the most remarkable in building relations. I am happy to be here and would like to join hands with ICMEI for more activities," expressed P. Murugaesh Counsellor of     High omission of Republic of Singapore.
K.G.Suresh Director General of Indian Institute of Mass Communication, Neeraj Thakur Press Council of India Sakshi Joshi of News 24 were the special guest at the inauguration function.
Earlier an exhibition of still photography designed by students of Asian School of Media And Studies was inaugurated by the dignities. A scholarship of short term course AAFT was also presented to Ambassador of Azerbaijan.
Later Dr. Sandeep Marwah honored all the dignities with the life membership of International Journalism Centre of ICMEI.
---
Summary
7th Global Festival of Journalism Inaugurated at Marwah Studios, Sandeep Marwah President of 7th GFJN
---