20th Management Summit Opened at New Delhi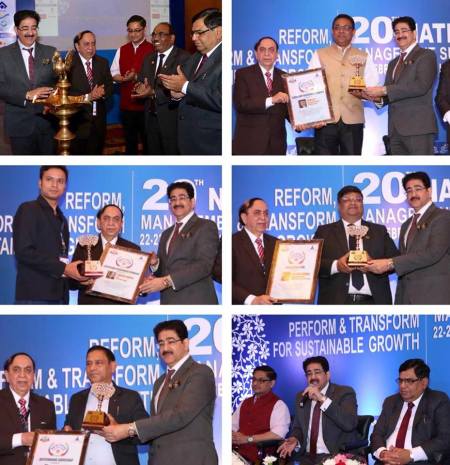 New Delhi:February 28,2019 ( PR Submission Site )  Following the vision given by Prime Minister Narendra Modi's Independence day speech wherein he emphasized that India's future vision will be 'Reform, Perform, and Transform', Top Rankers Management Club organized its 20th National Management Summit on the theme "REFORM, PERFORM, TRANSFORM FOR SUSTAINABLE GROWTH" for 2days thought-provoking sessions at Hotel Meridien.
In his keynote address, Sanjeev Sanyal, Principal Economic Advisor, Govt. of India emphasized that the country's growth in the world of stringent competition will depend on the sincerity of purpose and general transformation in all spheres of industry and inclusive growth, which will lead to sustainability.
"Time has come when we all have to work sincerely. You all have to be truthful to your profession. Prosperity is waiting at the doorstep if we can develop strong determination," added Dr. Sandeep Marwah five times World Record Holder and President of ICMEI- International Chamber of Media And Entertainment Industry.
The names of the few prominent speakers include: Rajeev Bhaduria, Former Director HR, Jindal Steel & Power Ltd.; Pankaj Dubey, MD, Indian Motorcycle India and CEO & Director – Eicher Polaris, Umesh Dhal, Director HR & MS, and LG Electronics India;Deepa Chadha, CHRO, Vistara Airlines ; Pavitra Singh and Director HR – Global Campus COE, PepsiCo;
Sunil Mehta, MD &CEO, Punjab National Bank;, Arun K Bajoria, Director & President (International Operations), Jk Tyre& Industries;, Anil Kumar Chaudhary, Chairman, SAIL; Hemant Bhargava, Chairman, LIC; Namita Vikas, Group President & Global Head, Yes Bank; Sandeep Mehta, CEO, Wizcrafts; Anil Bhasin, Havells; Pavita Puri, Group Head Brand, The Indian Express; Manohar Kumar, CMD, NPCC;  and Vikram S Kasbekar, Executive Director, Hero Moto Corp. were the awardees.
Later V.S.K. Sood the President of the organizer also honored Sanjeev Sanyal and Dr. Sandeep Marwah for their sincere efforts in the respective fields.
---
Summary
Sandeep Marwah Presented Awards at Management Summit, Sandeep Marwah President of Marwah Studios
---