101th Convocation of Students of AAFT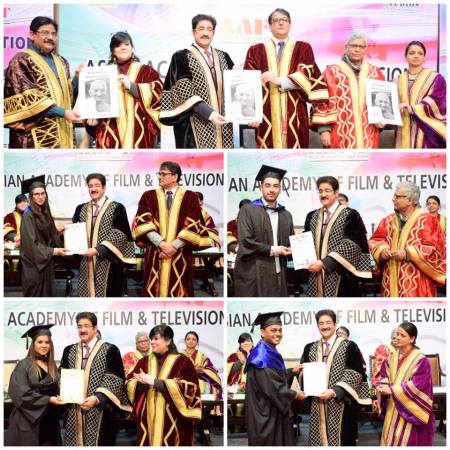 Noida, February 22,2019 ( PR Submission Site ) Dream Comes True-when you talk about 101th convocation of Trainees of AAFT- Asian Academy of Film And Television. Never ever any institution related to film, television and media celebrated such a marvelous number in the shape of convocation, in the World.
The colorful convocation gowns and symmetrical black gowns of students were creating new energy and buzz in the campus. The excitement of receiving the most prestigious diplomas in media were about to be handed over to the deserving students of AAFT.
"It is a day of double celebration as we have crossed the number of 100 as far as convocation of students of AAFT is concerned. It shows the growth of film business in India and the quality of education we have been delivering from last twenty five years-a quarter century," said Dr. Sandeep Marwah President of the most popular film school of the Globe.
63 students passing out in this batch after finishing their short term courses in Production Direction, Editing And Sound Recording, Acting And Presentation, Camera And Lighting Technics, Script Writing, Graphics And Animation, Sound And Radio Programs etc. informed Amir Abdullah Director of the institution.
A set of awards was also presented to the topers and to all those students who have done extra ordinary well in extra circular activities round the year. A poster was launched to remember Father of the Nation- Mahatma Gandhi, as it was his Death Anniversary.
"Be truthful to yourself, be honest to your profession, be helpful and supportive, be patriotic and nationalist are few things, which will take you heights. You will be remembered for your humanity," added Dr. Marwah at the closing function.
---
Summary
101th Convocation of Trainees From AAFT, Sandeep Marwah President of AAFT
---