With 1 Gbps Internet Speed, AT Broadband Claims To Be One Of The Fastest Internet Connection In India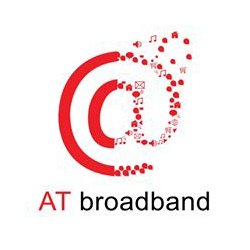 Nagercoil, TN February 07, 2019  ( PR Submission Site )  – AT Broadband is now offering a slew of fast and unlimited internet plans in Nagercoil at affordable prices. The company has implemented gigabit fibre – technology that enables access to high – speed internet that could go up to 1Gbps. Users can now download movies while simultaneously uploading a video, or enjoy seamless video streaming.
"There are many service – based startups in and around Nagercoil catering to clients on a global scale and relying on access to high- speed internet to carry out their internet-dependent activities. Until now, they did not have much of a choice in terms of high speed connectivity," says a spokesperson for AT Broadband. The company's unlimited internet plans in Nagercoil offers enough bandwidth to support critical applications, thereby ensuring increased productivity for our clients.
The company also offers a wide range of cheap broadband plans in Nagercoil along with some of the best Wi-Fi plans for home. "Fibrenet technology not only allows multiple connected home users stream 4K content at the same time but also promises a seamless online gaming experience. Users also have access to ultra – fast browsing speed that could go as high as 100mbps, thereby ensuring fast data processing and uninterrupted internet service," adds the spokesperson.
Whether looking for fastest internet plans in Nagercoil for their home or office, AT Broadband has plans for everyone. They also offer round the clock assistance to clients, via phone, online chat or phone. Clients can also arrange for a call back when looking for help. "Fastest internet connection automatically translates into better services not only for businesses, but also guarantees an enjoyable experience to homeowners," he adds.
About AT Broadband:
AT Broadband is a super fast internet service in Kanyakumari offering a wide range of cheap broadband plans in Nagercoil guaranteeing fast and glitch-free internet services.
To know more, visit, https://www.atbroadband.in/
---
Summary
AT Broadband now offers Gigabit Fibre technology enabling high speed internet access to its users in Nagercoil
Source
https://www.atbroadband.in/
---