Women Empowerment and Safety Program at Christ Church College Kanpur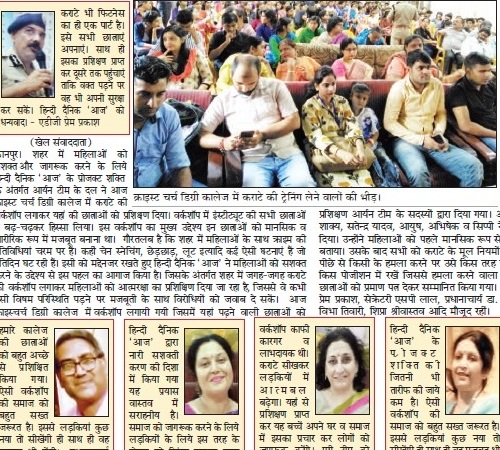 25 September 2019 ( PR Submission Site ) – On Sep 18, 2019, StajIndia Pvt. Ltd., Saarthi Foundation and UP Police organized a joint program for "Women Empowerment and Safety" at Christ Church College at Kanpur. This program to bring awareness to women. Honorable ADG Kanpur Zone Mr. Prem Prakash was the chief guest who share when something happens then what you have to Do's and Don'ts, how to secure yourself at outside, inside, at the workplace, from your relatives and close family members, when you are roaming, etc., even when you are traveling alone with your personal vehicle or by bus, train, cab.
This program is to aware of the women how they secure themselves by crime against women and what are their rights. Second, protect herself by self-defend once you encounter with some stranger who staking you, abusing you, physically touching you, etc. and what equipment's which are our in daily uses to play an important role in terms of when you are alone at that time.  Honorable ADG Kanpur Zone Mr. Prem Prakash spoke about IPC under against women crime what should have to fine and how long imprisonment for suspect after he finds guilty, how to lodge FIR, Different Apps, Women helpline numbers, etc.  HE also included if any Police officer refuses to lodge the FIR then in that case under some IPC the FIR will be lodged against the particular Police officer. It means the FIR must be written by a Police officer and that time Women officer will be with her.
At the end of the session, some queries put up by students and Honorable ADG, Mr. Prem Prakash replied that what is the first move you will take when something going against you and to protect yourself.
---
Summary
The women empowerment event held at Christ Church College Kanpur gives us the inspiration that if we want to make our society strong then women power will have to be brought forward in every way and in every way women must be encouraged to do so in the development of society. Their participation in developing a better society is priceless.
Source
Staj India Pvt. Ltd.
---