Leading Photography Expert, WeDid Announces Its Tie-Ups With The Top Marriage Halls!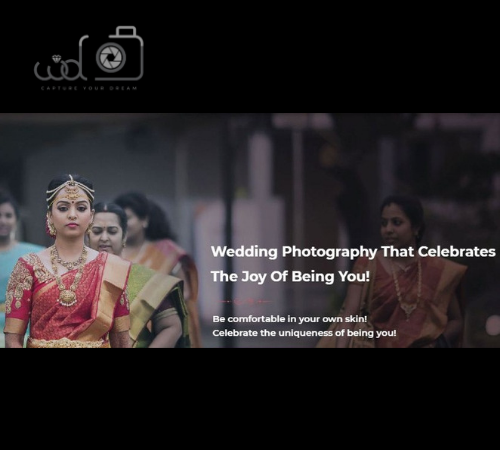 10 August 2019 ( PR Submission Site ) – WeDid Wedding Photography In Chennai Joins Hands With The Top Marriage Halls To Create Momentous Weddings!
WeDid wedding photography in Chennai, one of the pioneers in the field of wedding photography well known for their picture-perfect depiction of the raw emotions in an Indian wedding are setting up new trends in the industry by collaborating with some of the best marriage halls in Chennai. 
To know more about WeDid Wedding photography In Chennai and the way they make pictures come to life by their creatively captured candid pictures that tell wedding tales most uniquely, visit:
WeDid wedding photography is a known name in the industry for its natural clicks that speaks a thousand words by depicting the full-packed emotions in an Indian wedding. They capture images in the most creative, unique, and story-driven way. They always come up with vibrant photographs that overflow with emotions. The ace photographer at WeDid, Anand G Anand, one of the most renowned names in the photography industry; stressed on the fact that he loves to capture emotions in the purest form without even a tinge of pretension and without forcing the couple to pose for uncomfortable shots. He loves to let the bride and groom free to enjoy their special day. He closely follows them and clicks pictures that captures the raw emotions most creatively and beautifully. The pictures freeze the moments of celebration and transport you back to that special day whenever you take a look at the pictures at any later stage in your life.
When quizzed about this new tie-up, the company spokesperson noted that " We had been thinking about collaborating with the best marriage halls in Chennai so that our clients get the best wedding experience ever! They need not worry about anything- right from the hall, the catering, the wedding decor, parking facilities, taking care of guests to the wedding photographs; every single aspect of the wedding is covered. So our clients need not go anywhere else to carefully plan and conduct the wedding devoid of even the slightest mistake."
The chief photography expert, Anand was more than happy and enthusiastic with the new move and said, "We do not simply take pictures. Instead, we spin the tale of love through carefully designed stories. And, these wedding stories can be perfect only if they are conducted in the best marriage halls in Chennai. So, I'm also looking forward to this tie-up!" 
The company spokesperson stressed the fact that they are making tie-ups with the leading marriage halls in Chennai which offer all the necessary amenities for a wedding right from spacious halls, parking areas, catering facilities, special attention to guests, elegant interiors, AC rooms, DJ facilities to professional and well-experienced staff who can manage an event with perfection that exceeds expectations.
To learn more about Chennai Convention Centre, their marriage halls and to take a sneak peek into their brand new website design, please visit https://www.chennaiconventioncentre.com/.
"It is also ensured that the wedding halls are easily accessible by all means of transport, be it by road, rail or air. This will make it easier for the guests invited to the wedding. We are zeroing on the best wedding halls in Chennai with different seating capacities that can suit the needs of a wide range of clients. We give utmost importance to the quality of services above anything else. A perfectly planned wedding will make both the bride's and groom's family feel at ease and enjoy their special day without worrying over the arrangements. This, in turn, will create many beautiful moments that can be captured with our photographic expertise," the company spokesperson noted. 
The Press Release is powered by one of the leading SEO experts in Chennai, DigitalSEO. DigitalSEO is also the digital marketing expert that helped WeDid to gain a foothold in the industry.
To know more about DigitalSEO and to get an insight into the services they offer, contact their Digital Marketing and SEO team in Chennai, Visit Now:
About WeDid 
WeDid Wedding Photography is one of the top wedding photography experts in Chennai with their services spanning all over India. They are well-known for capturing the rawness of Indian weddings through perfectly timed shots. Their ace photographer, Anand G Anand, is one of the best cinematography professionals in Chennai. 
Address: 5/28, Vivekananda Flat, 2nd Floor, Door no s1, Krishna Nagar 4th street, Virugambakkam, Chennai – 600092
Contact Person: MR. Anand
Phone No:+91 8939748080
Email: anand@wedid.in
---
Summary
WeDid Wedding Photography In Chennai Joins Hands With The Top Marriage Halls To Create Momentous Weddings!
Source
WeDid Wedding Photography
---