Violinists Declare War Against Ice Cream Lovers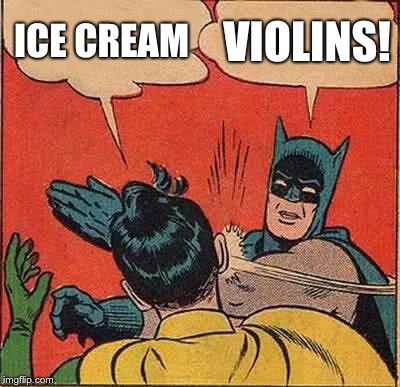 Chicago, IL  ( PR Submission Site ) Dec 1, 2018: National Violin Day and National Ice Cream Day both fall on December 13. For many years, people have serendipitously celebrated both together under the auspice of a morphed "Ice Cream & Violins Day." That ends now.
"The time for sharing December 13 as a national holiday is over," says Sam Walder, CEO & Creator of Trala, an app that teaches violin. Trala is encouraging violinists to take on ice cream lovers in a December-to-Remember Battle Royale video contest.
"One day isn't big enough for violins to share with ice cream," says Walder, "so we're challenging violinists and ice cream lovers to stop playing nice and pick a side. We urge violinists around the world to reclaim December 13 as our rightful, sole national holiday. Down with dairy!"
Declare your allegiance to either Team Violin or Team Ice Cream by submitting a video on Instagram or Facebook showing how violins reign supreme over ice cream or why ice cream dominates violins.
Sweet prizes include a rockin' red electric violin ($280 value) and $200 of Ben & Jerry's ice cream. Click here for complete contest details.
About Trala, Inc.
Trala is a Juilliard-approved app that teaches users how to play the violin. The app uses instant feedback on mistakes, step-by-step tutorials, and daily lessons to teach absolute beginners how to play songs like 'Amazing Grace' in 30 days. Trala is available exclusively on the App Store.
---
Summary
Violins vs. Ice Cream Video Contest Asserts Total Violin Domination on Shared National Holiday
---